álvaro siza has worked with fellow portuguese architect carlos castanheira to design a complex of three buildings surrounded by woodland in south korea's north gyeongsang province. the largest of the three structures developed as part of the 'saya park' project is a concrete art pavilion that comprises a variety of exhibition galleries. visitors enter the site from the north where they are greeted by an isolated library contained within a separate volume.
from here, guests are led inside the cavernous building, which comprises two parallel forks connected by a tunnel. siza and castanheira used this passageway to delineate an open courtyard at the heart of the building. dramatic interior spaces are defined by their raw appearance, proudly displaying their board formed concrete skin. meanwhile, apertures cut into the monolithic walls and roof provide natural overhead lighting. the journey concludes with a balcony that presents sweeping views across the landscape.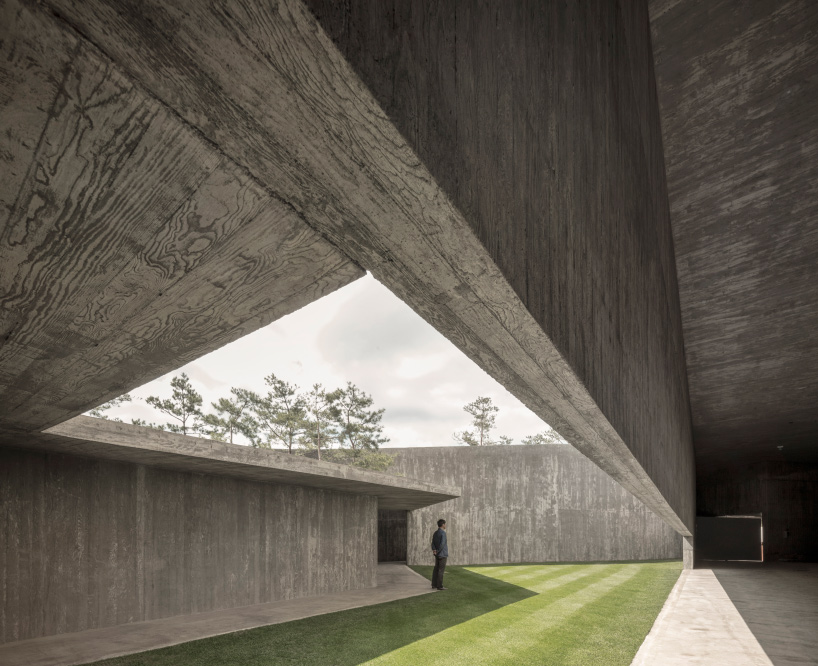 a passageway delineates an open courtyard at the heart of the building
image © fernando guerra | FG+SG
'there are projects that are born both out of their site and for it,' says carlos castanheira. 'there are projects that create the site for themselves. the art pavilion modified the hill site and also adapted itself to it. and we all also, adapted ourselves to the beauty of this project. we enter the art pavilion as if entering a sculpture that absorbs us and enables us to feel space, light, shade, time and also, what is before and what is beyond.
the second building is a chapel, designed to offer 'a space of internal beauty'. embedded into the hillside, the structure opens up to the morning's eastern light. 'saya park lacked a chapel,' castanheira explains. 'there were plenty of symbols for meditation and introspection, allowing visitors to experience moments of beauty out in the open. a space of internal beauty was needed. its geometry is pure, because its function is also pure.'
the third building, which for now remains unrealized, will be an observation tower that rises above the pine forest. the concrete structure will be positioned on a small hill overlooking the deep valley below. visitors ascending the tower will pass windows that provide fleeting glimpses of the outside world, before the route culminates in a south-facing balcony. 'the descent provokes introspection as we return to earth,' says castanheira. 'the almost raw finish of the exposed concrete contrasts with the purity of the form. despite its simple appearance, the essence of the tower is complex. its function is the essence of architecture.
an observation tower, which for now remains unrealized, will rise above the pine forest
image courtesy of carlos castanheira architects
location: gyeongsangbuk-do, south korea
date: 2015-2018
architects: álvaro siza + carlos castanheira
portugal office: CC&CB, arquitectos
collaborators: rita ferreira, luíza felizardo
consultants: HDP – paulo fidalgo (structure)
3D models: germano vieira