sydney-based architecture practice studioplusthree has created a new living platform bringing light, air and space to a highly constrained triangular site in sydney's east.
in an urban response to the site's limitations of light and open space, living areas are elevated up to the tree canopy offering lush panoramas, abundant light and a sense of horizon.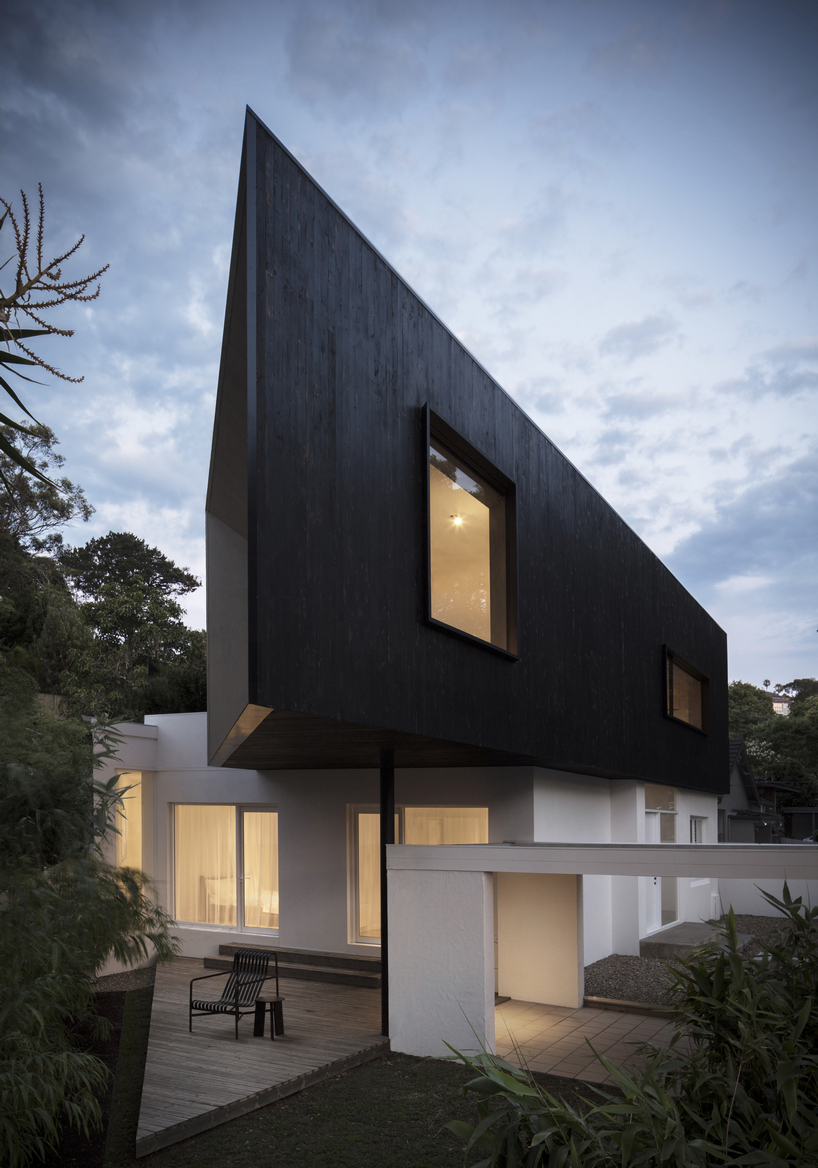 studioplusthree's design aims to integrate functionality into the details to enrich family living – such as the northern edge of the elevated deck, expressed in a continuous element that incorporates planting, outdoor seating, privacy screen, benchtop, and storage. this new living platform created a datum – a continuous horizon line, along which openings were carefully located in response to trees, greenery, and views. the depth of the south façade provides a dialogue with the street, with deep reveals allowing casual inhabitation of window seats along this elevation. key to this experience is the western outlook: a lofty fig tree set against the city beyond. providing seclusion from the street and protection from the western sun, a series of sliding perforated metal screens set against the tree canopy filter the light and views, with a vertical gradient of perforations offering privacy to neighbors below and transparency to the sky above.
the cantilevered first-floor volume provides shelter to the deck below, and the level opens the living spaces out to the north-facing terrace offering open, social spaces and a continuous view to the treetops. playing with contrast, materials define notions of inner and outer: dark, charred timber cladding is cut away from the volume to reveal pale timber and clean white planes within. much of the existing ground floor was retained and reconfigured, focusing on the elevated first floor
environmental strategies are simple yet effective – living spaces are oriented north, with deep eaves and recessed blinds sheltering glass openings. the western sun is mediated by the fig tree as well as the metal screen. these two large openings, with operable shading devices built-in, provide flexibility in cross-ventilation and solar protection. solar hot water and rainwater collection are installed, whilst deep walls are filled with insulation far beyond the requirement. the blackened timber exterior belies a calm, bright interior that becomes a backdrop for dappled light, soft shadows and greenery playing through the elevated living spaces. raised above its urban context, views over and through the canopy expand the perception of interior spaces, whilst the metallic bronze screen filters the movement of light, trees, and the setting sun.