chinese studio daipu architects presents the 'force field hutong,' an ephemeral intervention within beijing's most controversial hutong-renewal district. with the boundaries of the historically preserved site, the design team reinstates a discourse on the reinvigoration of ancient city spaces. the urban renewal project was initially driven by both a focus toward a new stylistic perspective as well as the generation of new spatial relationships to revitalize the heritage site and attract new public use. situated along the derelict banks of a dried up river, the site is characterized by an array of courtyards surrounded by a cluster of heritage buildings maintained to express a nostalgic hutong lifestyle.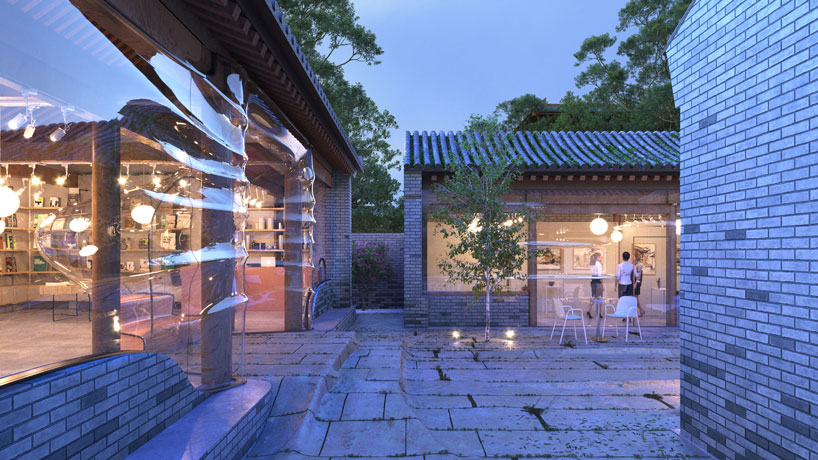 all images courtesy of daipu architects
daipu architects develops its contemporary intervention within the strict boundaries designated by the site's historic preservation status. the existing brick and timber structure, the original facades, and the structural brickwork of the adjacent embankment were to be retained and left untouched. this near-ruinous riverfront infrastructure dates back to the ming and qing dynasty eras. within these parameters the design team generates a series of public spaces wrapped in a transparent, 'invisibility cloak-like' glass skin, introducing a new visual connection between the courtyards. this glass cloak preserves and expresses the site in its original state.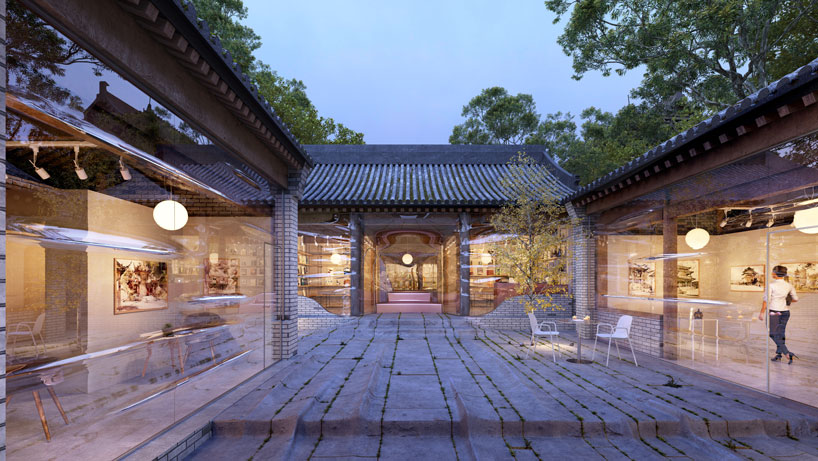 the transparent, undulating skin passes between the cluster of historic structures and courtyards, creating an interstitial 'force field'. the magnetism of this force field generates an atmosphere of vibrating fluctuation, linking the entire site and extending outwards toward the river bank. the team at daipu architects comments: 'an invisible and ethereal force destabilizes the spatial and visual flow all over the site. on first glance, the front and back courtyard look as though completely open to one another. however, under the reflection and refraction of light on the wrinkles and undulation of the glass cloak facade, imagery becomes blurry and ambiguous. reality is altered, the apparent transparency of glass is subverted, the perception of a poetic space is only illusory.'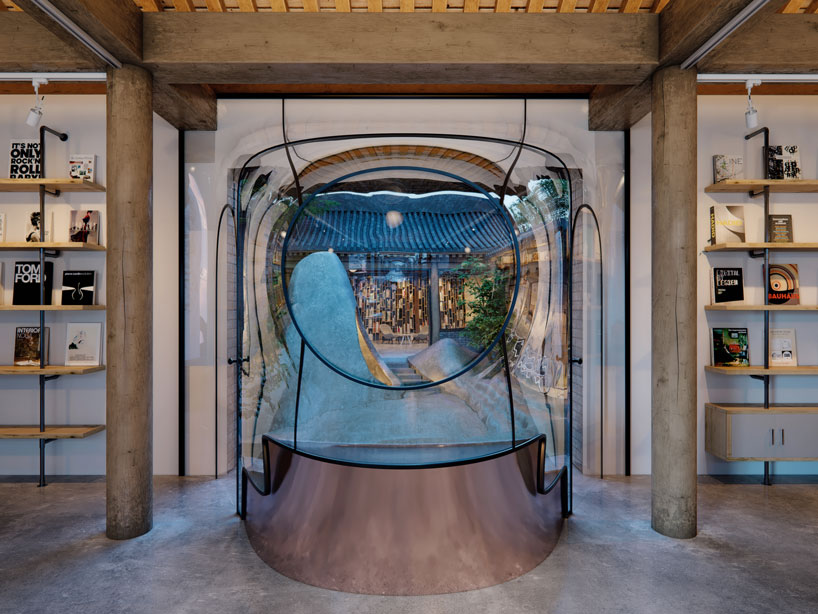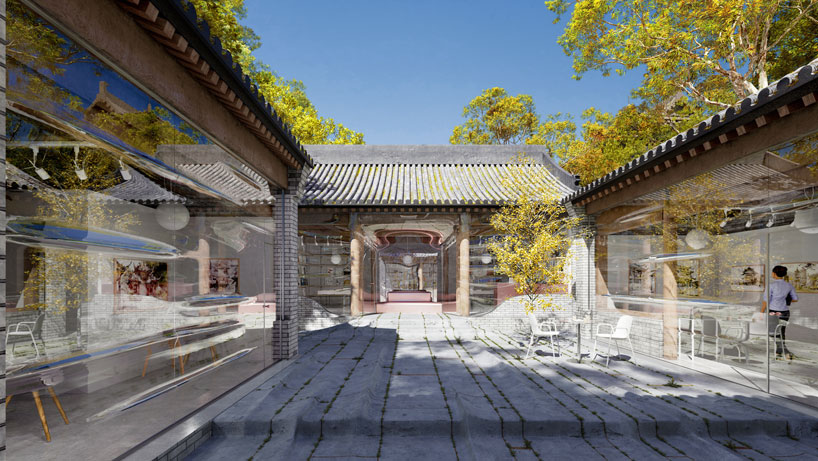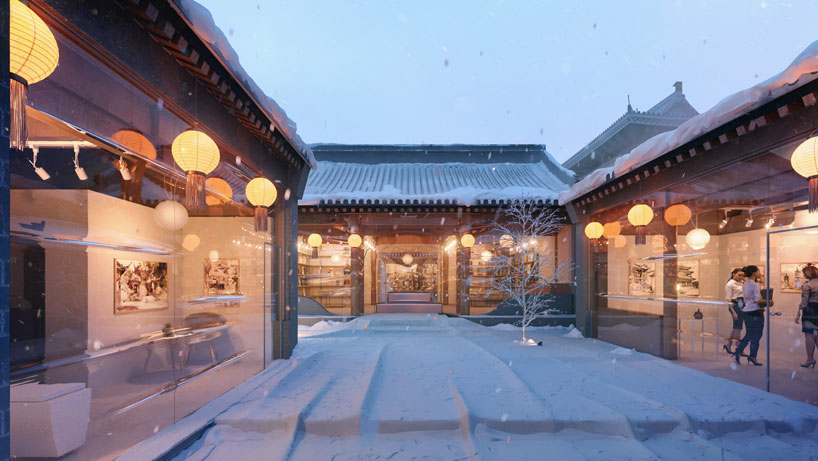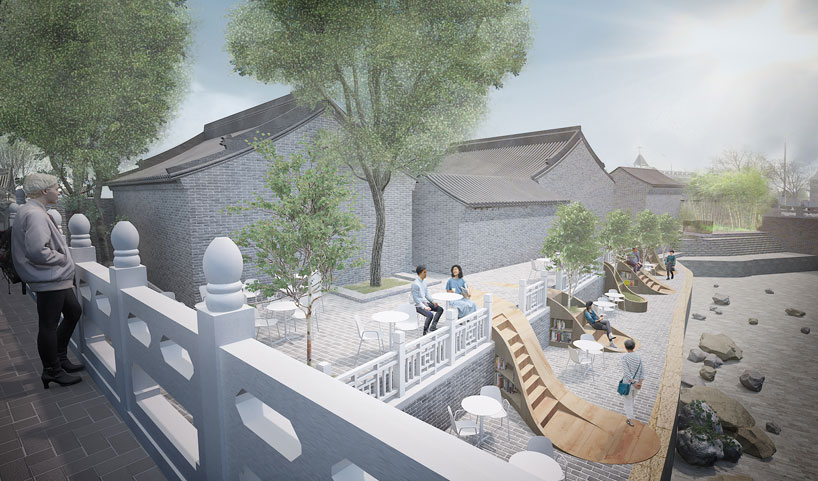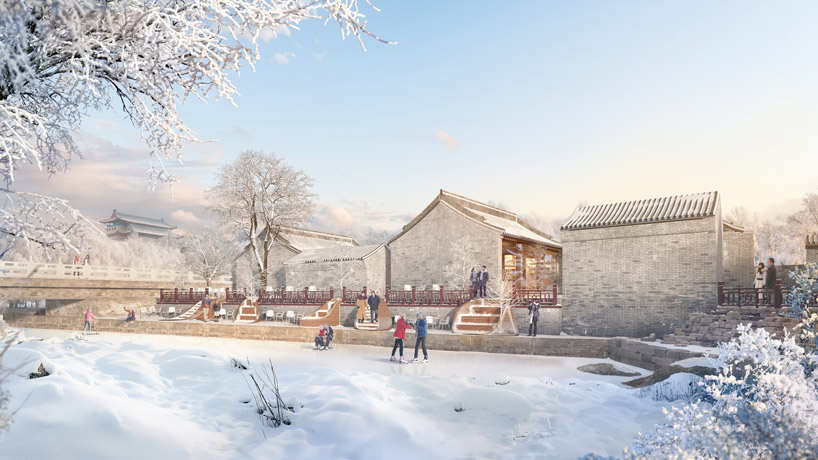 project info:
project title: force field hutong
architecture: daipu architects
location: nanluoguxiang, beijing, china
built area: 298 square meters
site area: 940 square meters
lead architect: dai pu
design team: guo lulu, evelyn jingjie wong, mohamed hassan el-gendy, sooyeon jeong, yoomin lee
photography: daipu architects