MPavilion 2019, the sixth temporary structure in an ongoing series, has been revealed. designed by australia's only pritzker architecture prize laureate, glenn murcutt, the refined, white minimal structure reflects the architect's significant contribution to climate-responsive architecture. celebrating the 50th year of murcutt's globally influential design practice, MPavilion 2019 will be a landmark summer attraction built in melbourne's queen victoria gardens.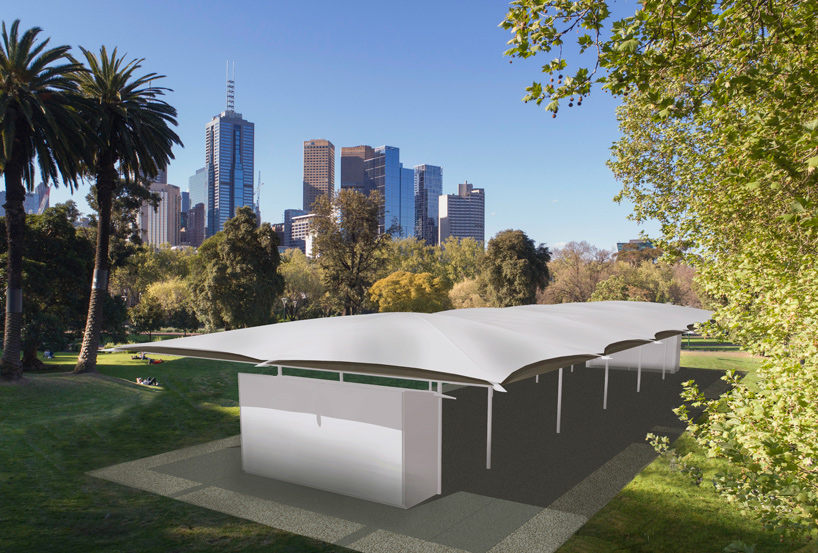 a rendering of glenn murcutt's 2019 MPavilion
image by two feathers | video courtesy of MPavilion
MPavilion 2019 relays murcutt's longstanding interest in buildings that make efficient use of site and climatic conditions. prioritizing a view of the river and city skyline, the building consists of a climate responsive rectangular plan with steel frames supporting wing-like trusses covered in tensioned translucent fabric. this results in a buoyant white roof that will be lit from within at night.

a sketch of the 2019 MPavilion by glenn murcutt
'the MPavilion design is a crisp white building that will be lit at night like a lantern, giving the pavilion a feeling of lightness,' explains glenn murcutt. 'for me it was central to establish a sense of 'place' for visitors — to view from within the building, the gardens, the river, and the city.' naomi milgrom, founder of the naomi milgrom foundation, which commissions each year's MPavilion, adds: 'glenn's very thoughtfully considered MPavilion reflects everything the world has come to love and appreciate about his distinctly australian design practice over 50 years.'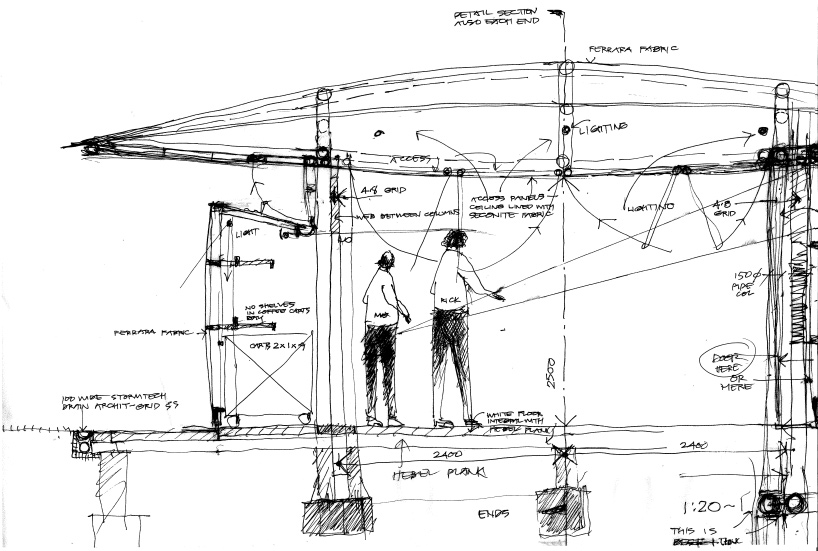 a great deal of attention has been paid to the roof canopy
influenced by a memory of using a light aircraft's wing as a temporary shade during a trip to mexico to visit the yaxchilán ruins, murcutt's MPavilion makes use of a membrane lined curved roof and aileron-like flaps to allow for shade and rain pathways. open along the north and south elevations, the MPavilion's south elevation is fitted with retractable fabric blinds to provide a level of wind protection when required. at each end of the structure there are alcoves, membrane lined externally, and timber-slat pivot doors internally.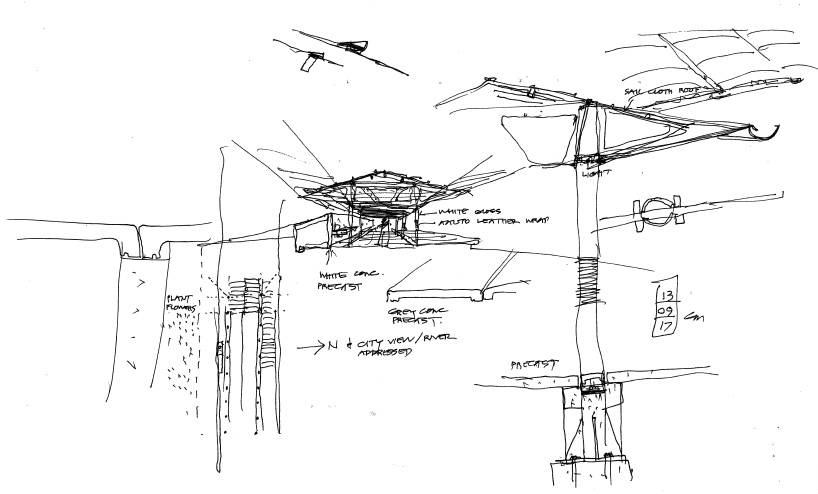 murcutt's sketches illustrate the project in more detail
MPavilion 2019 will open in melbourne's queen victoria gardens on november 14, 2019 until march 22, 2020. see a selection of glenn murcutt's other projects below.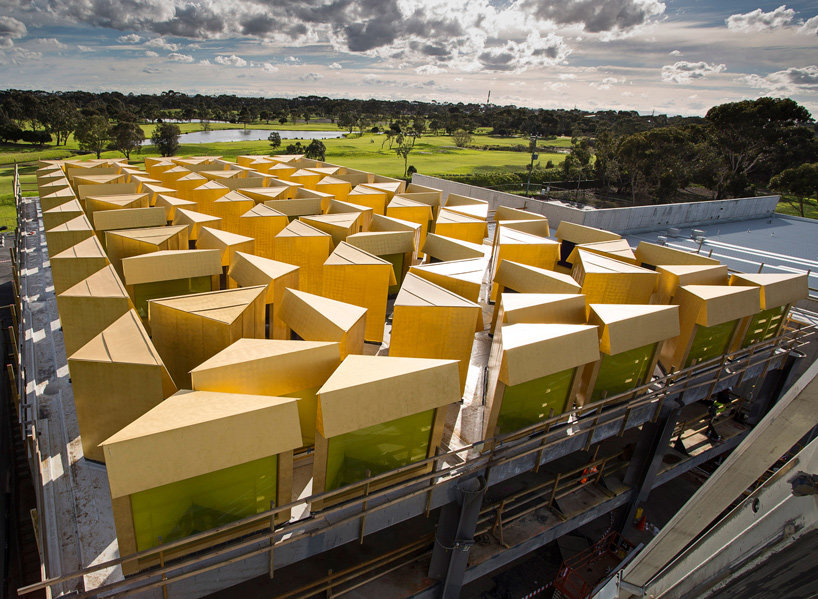 australian islamic centre, melbourne | read more on designboom here
image by anthony browell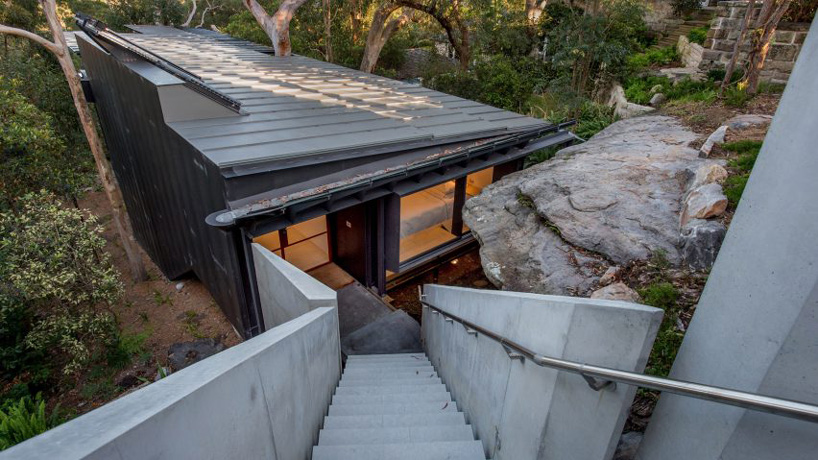 donaldson house, palm beach peninsula, NSW | read more on designboom here
image by anthony browell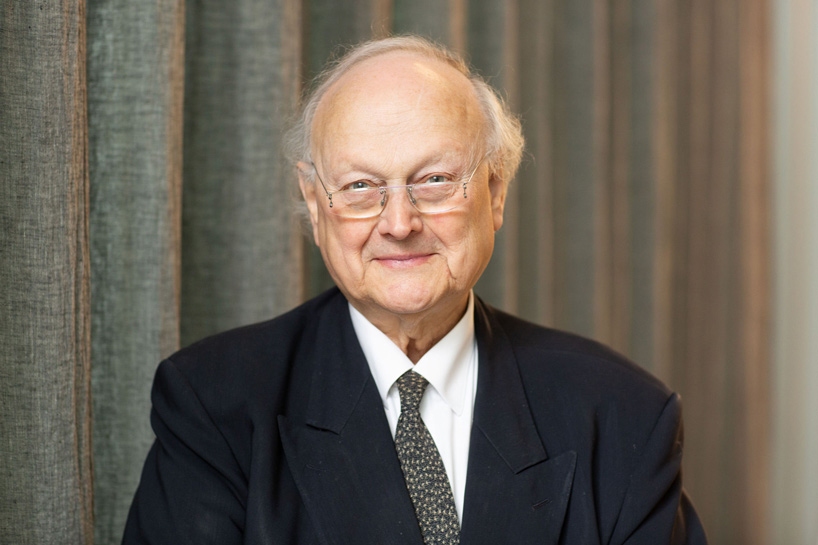 portrait of glenn murcutt
image by imageplay
project info:
name: MPavilion
design: glenn murcutt
commissioned by: naomi milgrom foundation
location: melbourne, australia
status: will open november 12, 2019
philip stevens I designboom
jul 11, 2019