with the help of local workers and materials, HKS architects has constructed a maternity unit in kachumbala — an impoverished rural area of eastern uganda. the brief called for a new healthcare facility that would replace an outdated, two-room, 1950s-era structure. as this previously existing unit could not accommodate those who traveled long distances to the facility, many mothers instead chose to stay home and give birth without medical assistance — increasing the risk of infant and maternal deaths due to infection or birthing complications.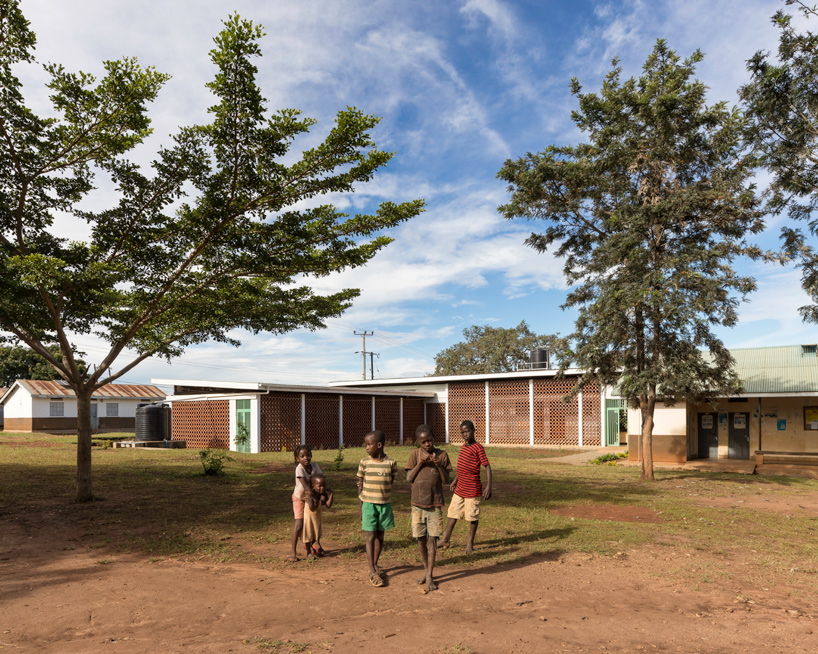 all images by peter landers
HKS architects — a firm also known for designing large sports stadiums — was tasked with building a welcoming maternity unit that would be capable of handling an increased number of patients. the passively-designed unit contains two delivery suites and a seven-bed postnatal ward to accommodate a minimum of six births per day, with the flexibility to support future expansion. the design was evaluated by UK-based health professionals, who also provided training for the maternity unit's midwives.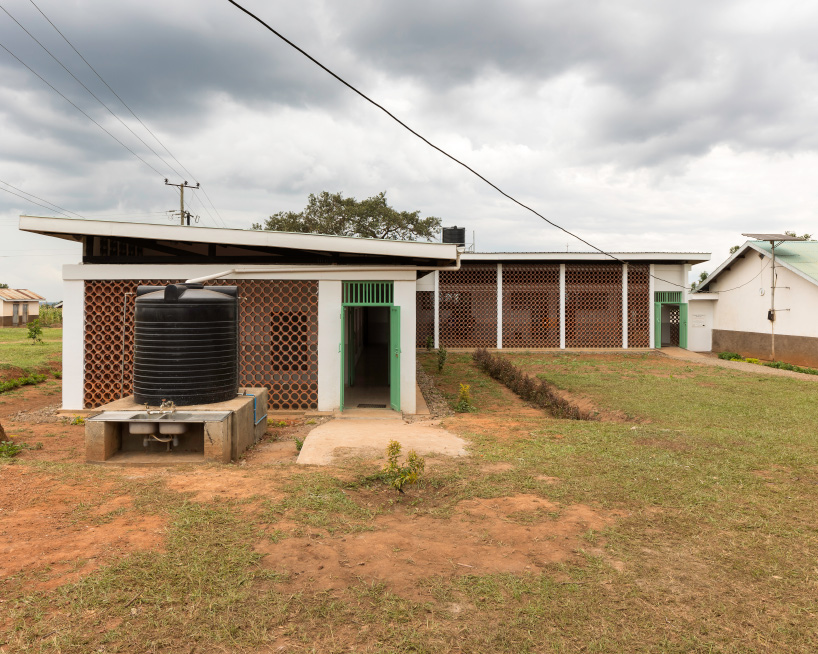 the low-cost facility was built with the help of a locally-sourced workforce of around 40 people, while 95% of the building materials were locally produced. a mono-pitch roof, strategic placement of operable windows, dog runs, and exterior corridors featuring terra cotta screens, ensure ventilation and shading. 'sustainable, passive features are design musts in locations where the power supply isn't reliable and natural resources are scarce,' say the architects.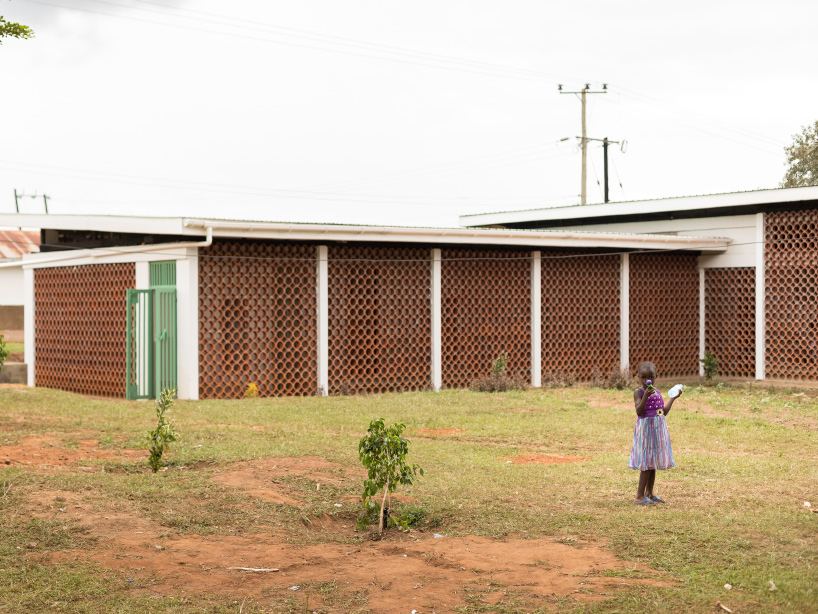 'literally everything was built by hand — no cranes to lift trusses or machinery was used — we had to rely on methods that didn't require electricity,' explains julie wellik, the co-director of citizen HKS, HKS' social impact initiative. 'handmade bricks that form the building's structure were made on-site, baked in the sun, not fired (saving trees from being cut and burned). using regionally made products is environmentally and socially responsible and supports the local economy.'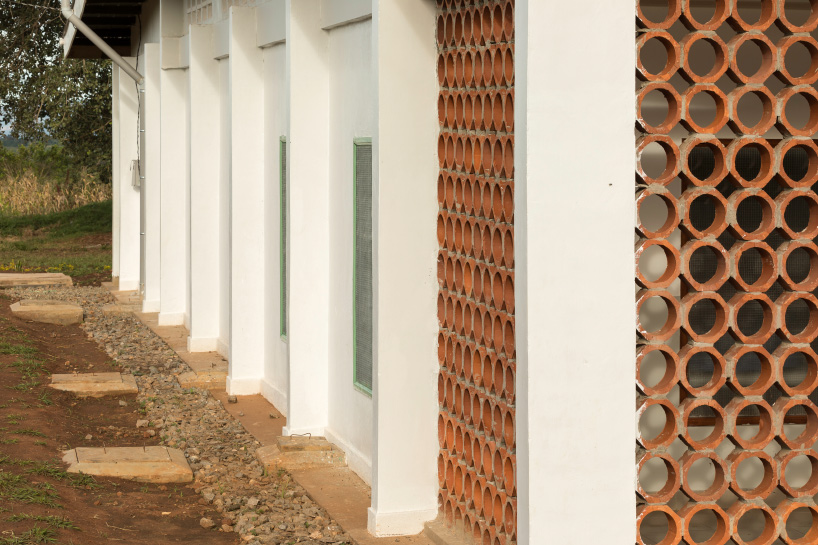 interlocking soil-stabilized blocks, the predominant building material, were handmade on site, using locally arising murrum mixed with cement in a brick press — reducing both costs and the need for power tools. solar power is used for lighting and to refrigerate medication, while rainwater catchment and a filtration system is also included. HKS partnered with wales-based charity engineers for overseas development and clyfe building skills to design, fund, and build the new maternity unit, which has been further documented in the video at the top of this page.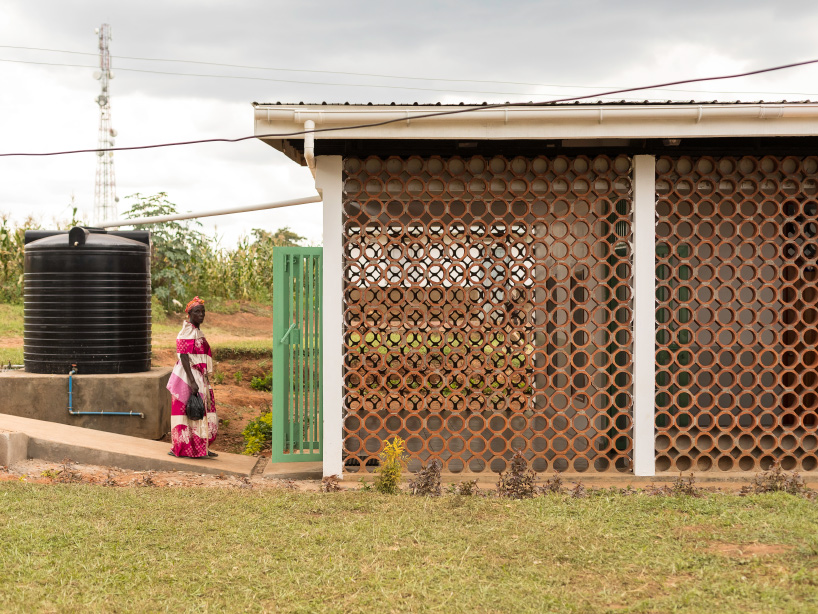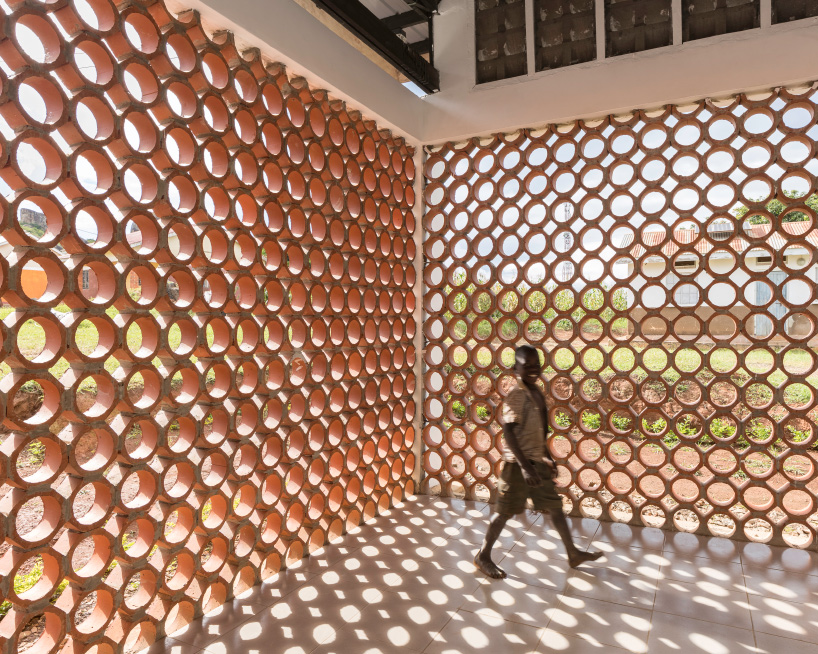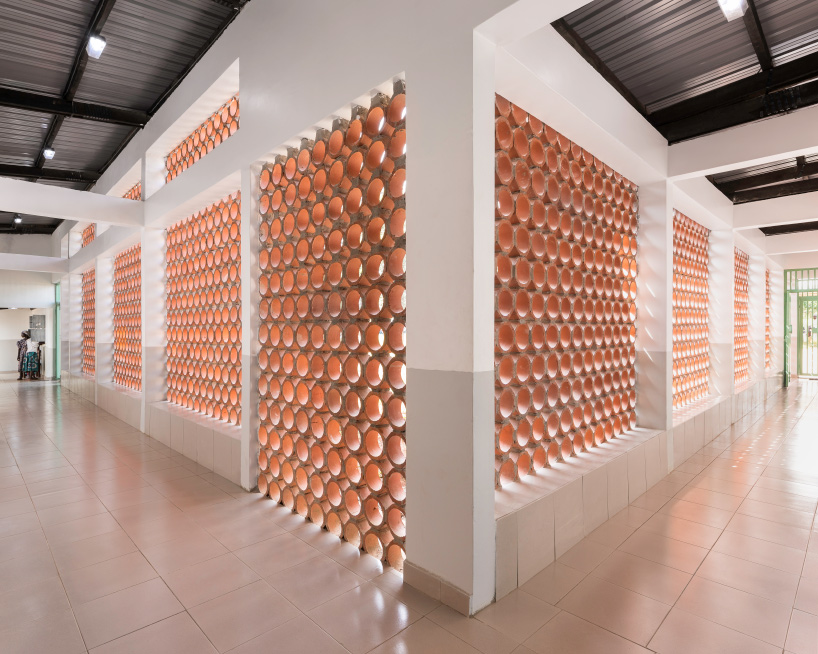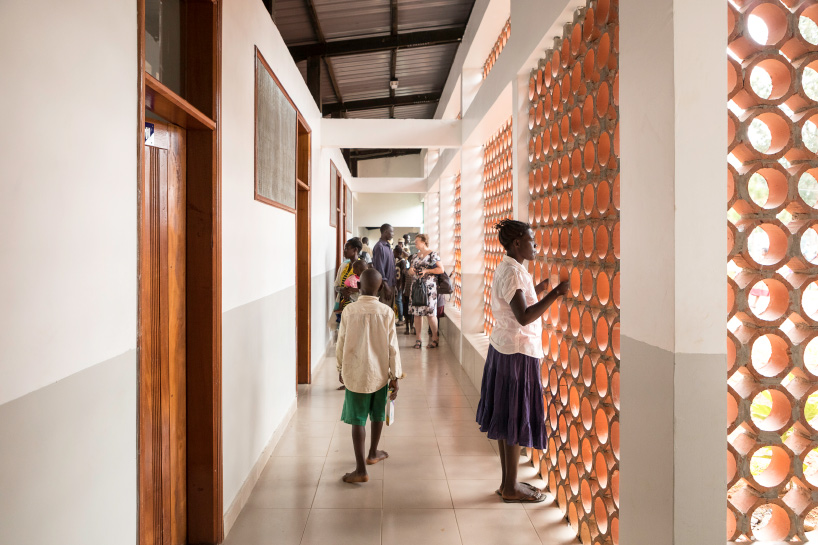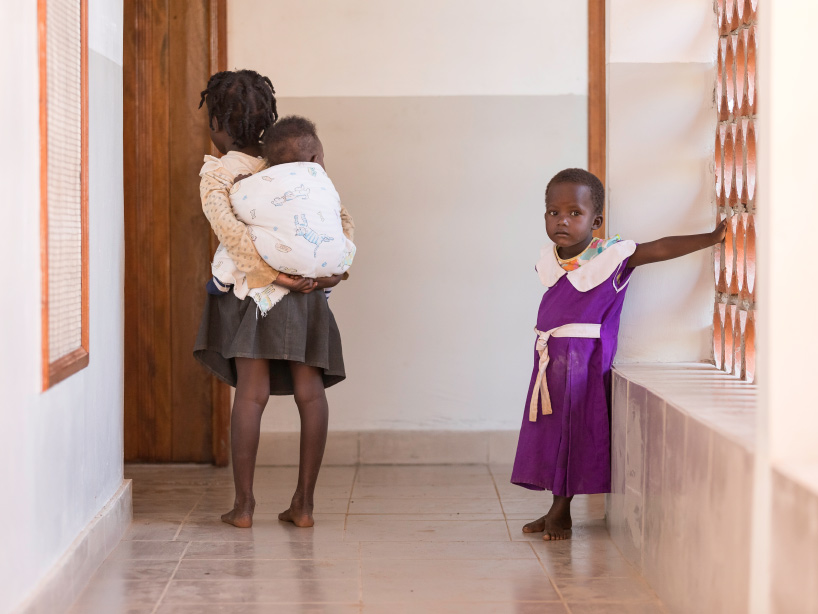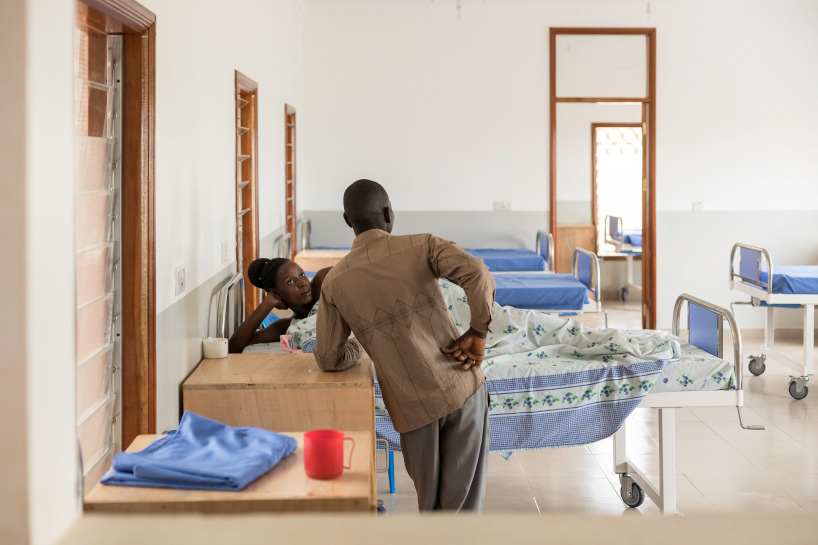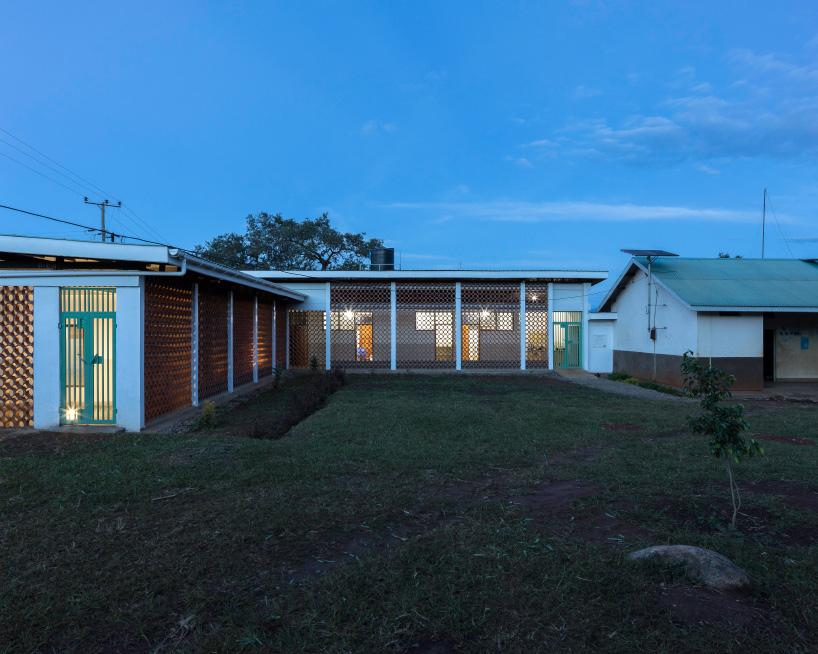 project info:
name: kachumbala maternity unit
location: kachumbala, uganda
architect: HKS
collaborators: engineers for overseas development and clyfe building skills
area: 2,960 sqf / 275 sqm
features: two delivery suites; seven-bed post-natal recovery ward; two-bed isolation room; community/family area; flush toilets; solar-powered 12v power system for lighting and refrigerated drug storage; rainwater catchment and filtration system
philip stevens I designboom
sep 05, 2019