the institute for computational design and construction has built an enclosed pavilion, which comprises nothing more than star-like 'particles'. the 'ICD aggregate pavilion 2018' is the result of a decade of research by the institute into the architectural benefits of 'designed granular materials'. the structure is believed to be the first fully enclosed architectural space entirely constructed from designed granules, which lie only in loose frictional contact.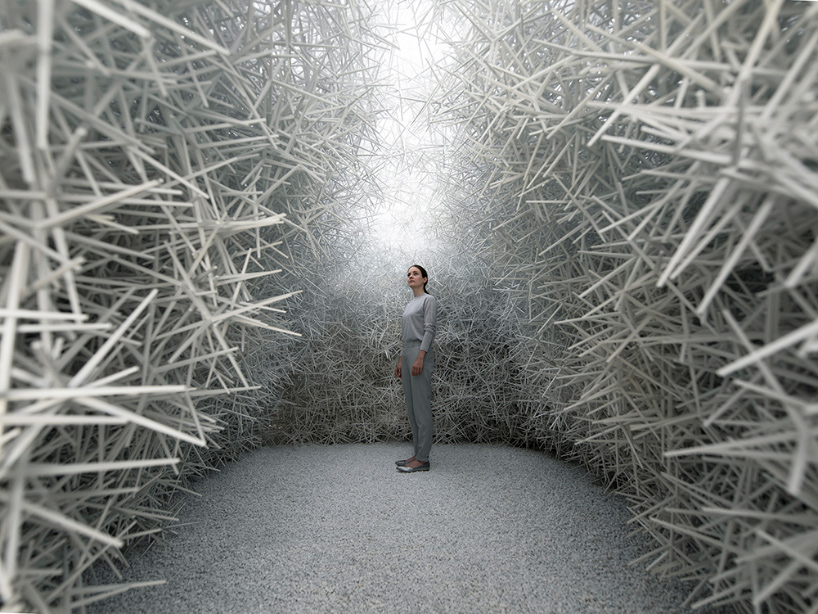 all images and video © ICD university stuttgart
the pavilion uses two types of designed particles with different behaviors: convex spheres, which can flow; and highly non-convex hexapods and dekapods, which can interlock. the convex spheres are a removable formwork, while the highly non-convex hexapods and dekapods remain as a self-supporting spatial structure. these unbound granular materials have the stable character of a solid material and the rapid reconfigurability of a fluid.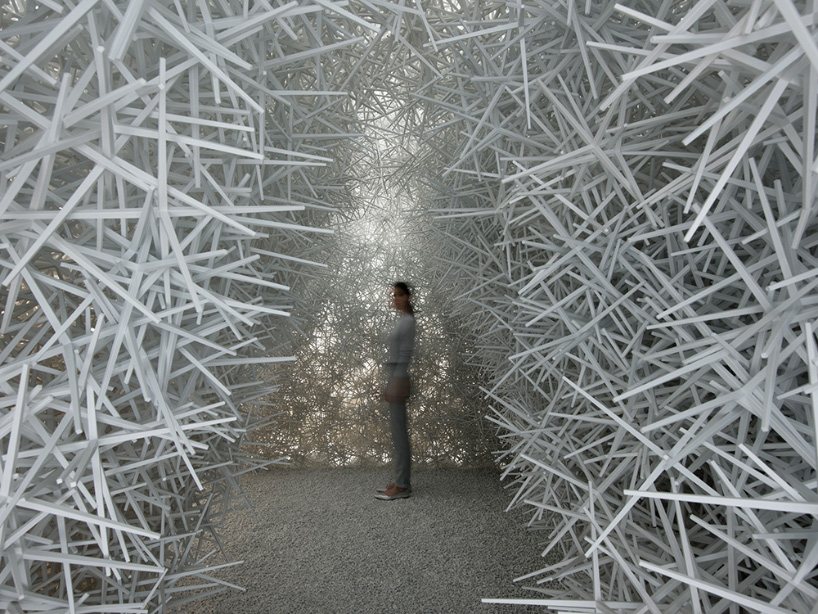 the enclosed pavilion comprises nothing more than star-like 'particles'
led by karola dierichs and achim menges, the team at ICD university stuttgart made the 120,000 star-shaped particles — the hexapods and dekapods — using injection-molded recycled plastic. made in situ, within a space measuring 9 by 10 meters, the pavilion was constructed with the help of a cable-driven parallel robot, which was fixed on four points to the walls of the hall and its supporting beam structure.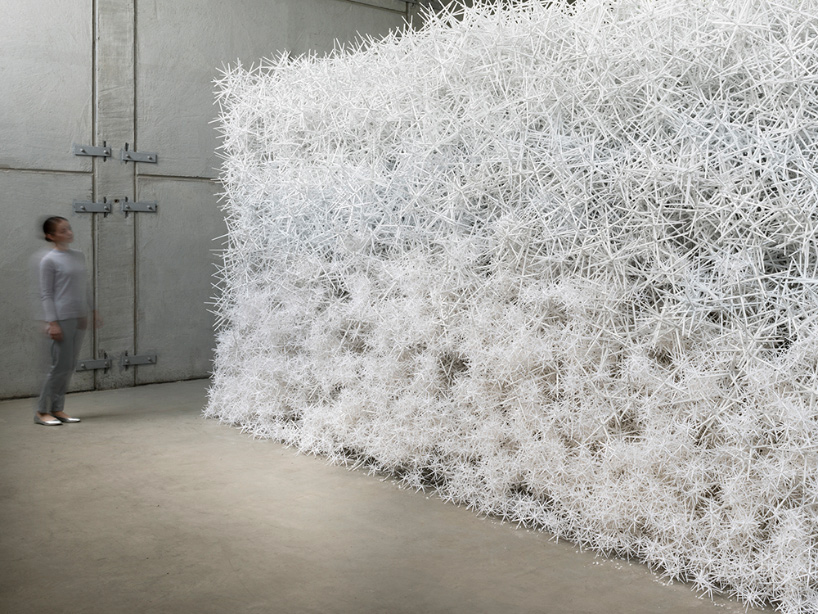 the structure measures 3x5x7 meters
storage boxes were used to define the limits of the enclosure, which grows as the robot drops the granular material at precise points defined by a custom-written interface. within the structure, two interconnected vaults have been created, formed entirely of designed granular materials at an architectural scale. this self-supporting spatial enclosure can be reconfigured and reused for future use.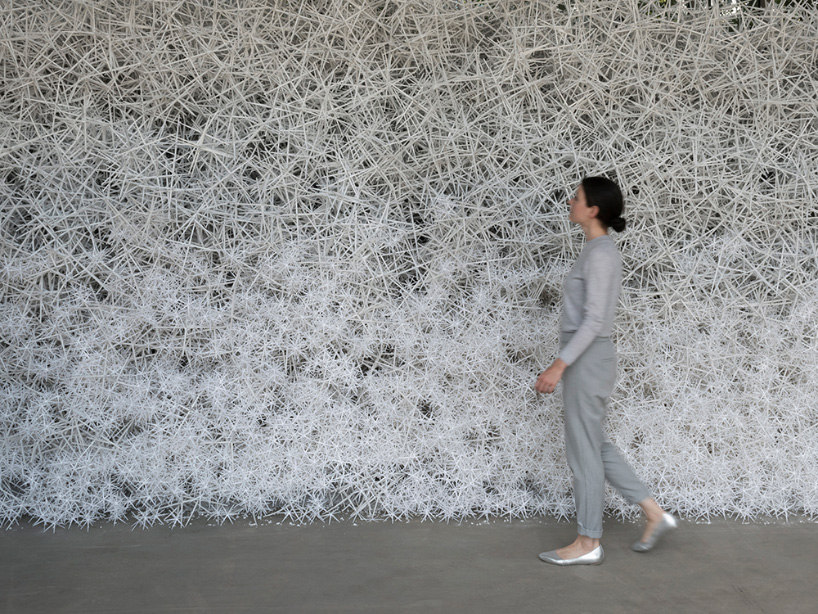 the unbound granular materials have the stable character of a solid material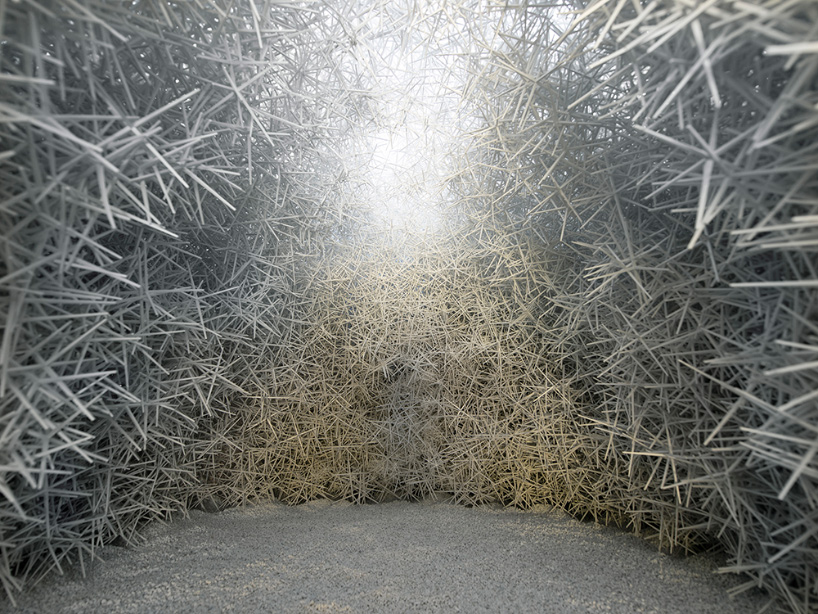 within the structure, two interconnected vaults have been created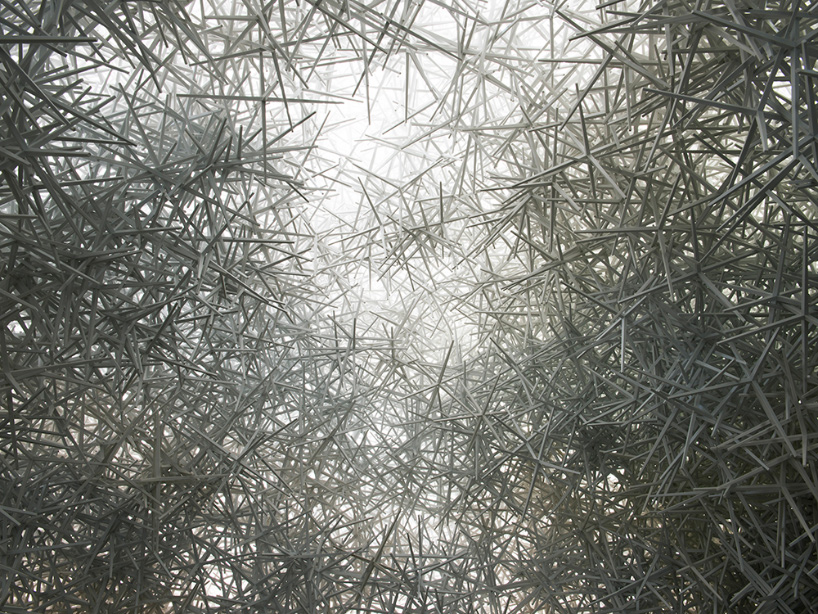 the enclosure is formed entirely of designed granular materials at an architectural scale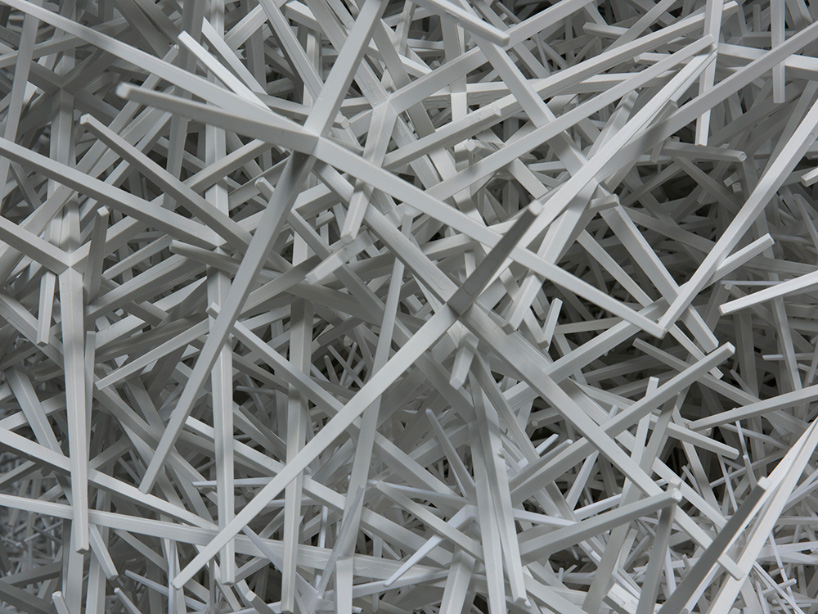 the particles were made using recycled plastic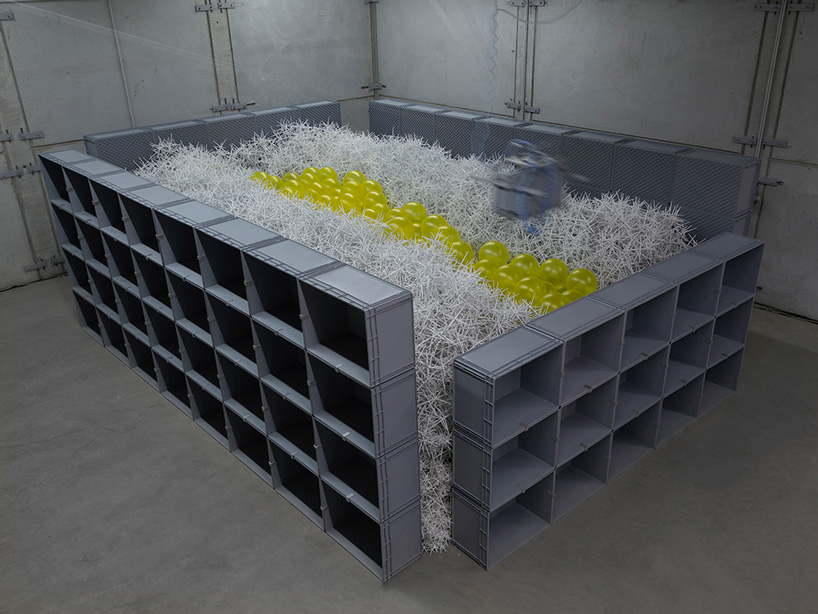 the pavilion shown under construction

an individual white, star-like 'particle'
project info:
address: 70469 stuttgart, germany
installed: summer 2018
size: circa 105 cubic meters (height: 3 meters, width: 5 meters, length: 7 meters)
weight: circa 2,500 kilograms
number of particles: circa 120,000 non-convex particles (circa 70,000 hexapods and circa 50,000 dekapods) and circa 725 convex particles (spheres)
ICD – institute for computational design and construction, university of stuttgart
karola dierichs, achim menges
research assistants: christian arias, bahar al bahar, elaine bonavia, federico forestiero, pedro giachini, shir katz, alexandre mballa-ekobena, leyla yunis, jacob zindroski
cable robotics: ondrej kyjanek, martin loucka
manufacturing: wilhelm weber GmbH & co. KG
support: gettylab, ITASCA consulting inc
philip stevens I designboom
sep 28, 2018