following a competition to envision a residential complex for a plot in rennes, france, JDS architects has been awarded 1st prize with its 'féval tower' proposal. the chosen design, which will be built on the blériot-féval site within the greater eurorennes development, will provide 188 new apartments in addition to a number of commercial, fitness and community-based spaces.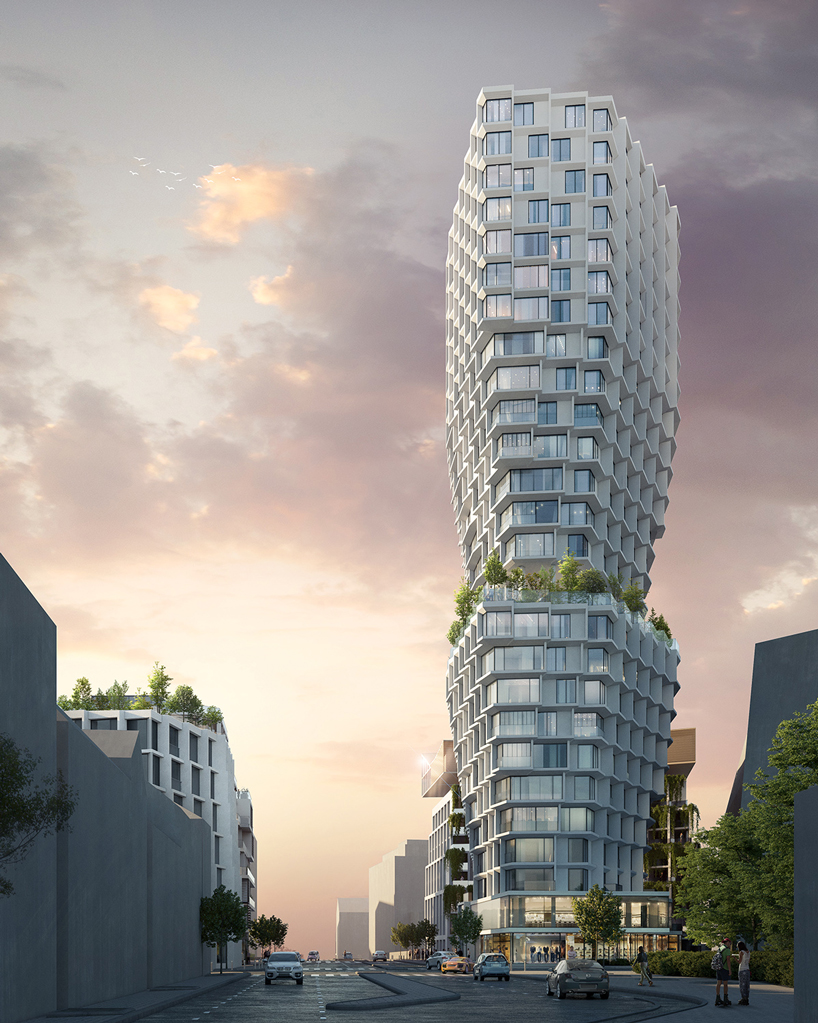 all images courtesy of JDS architects
the 'féval tower' marks just one of the projects that JDS architects is involved in, as they are also developing a series of mixed-use buildings on the blériot-féval site in collaboration with maurer & gilbert, SMAC and think tank. the concept behind the scheme focuses on creating an inclusive neighborhood within the larger eurorennes masterplan, which is located next to a new train station that will provide transport links to nearby cities, promoting business and stimulating the economy of north-western france.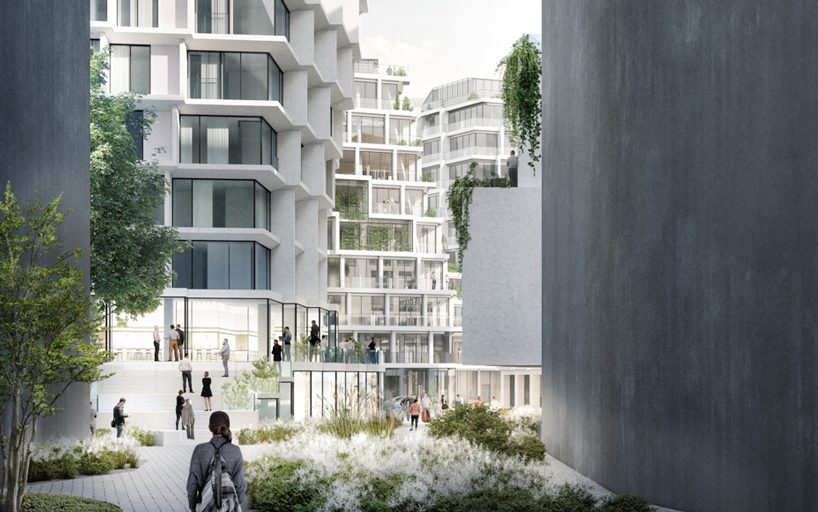 as the centrepiece of the site, the féval tower has been designed in an effort to reduce urban sprawl. the form of the building plays with volumes, as from the base, the structure grows wider until the 10th floor, where a lush community park punctuates the architecture. this space breaks up the vertical expression and offers a place for residents to relax and be closer to nature while enjoying a panoramic view of the city's skyline under the canopy of trees. after this green outdoor area, the building continues to rise until the final 27th floor.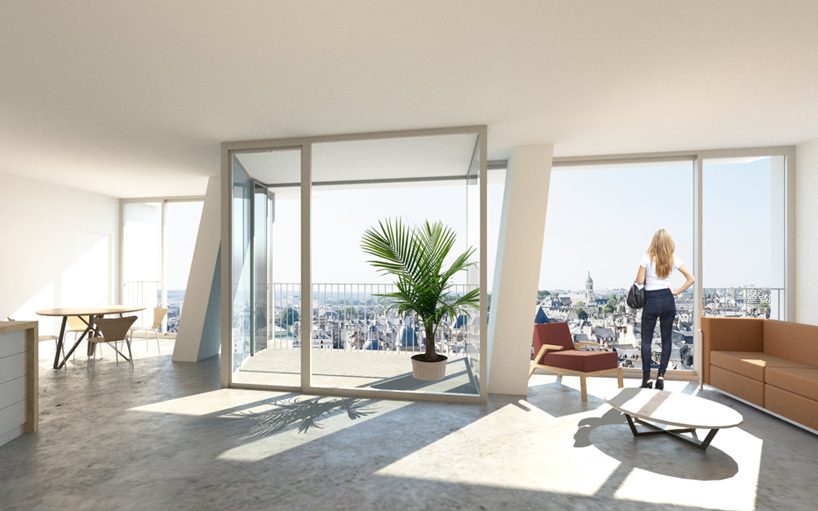 at the base of the structure, the project proposes a stepped public space on the ground level that will comprise of various commercial units. this space is designed to open up to the public, inviting pedestrians to explore the retail outlets on offer. after this public area, the apartments begin from the 3rd floor, all the way to the 27th. overall, the winning proposal intends to provide new opportunities for both living and working in the city of rennes while also relating to the region with the inclusion of green areas to promote urban biodiversity.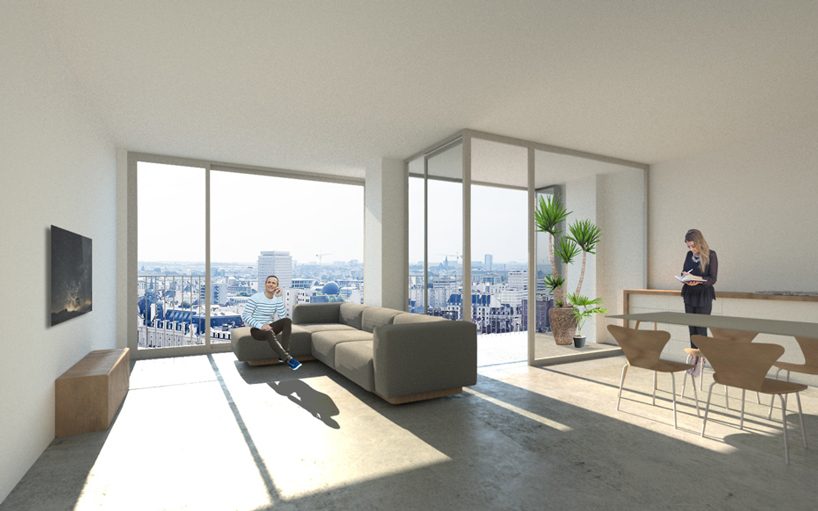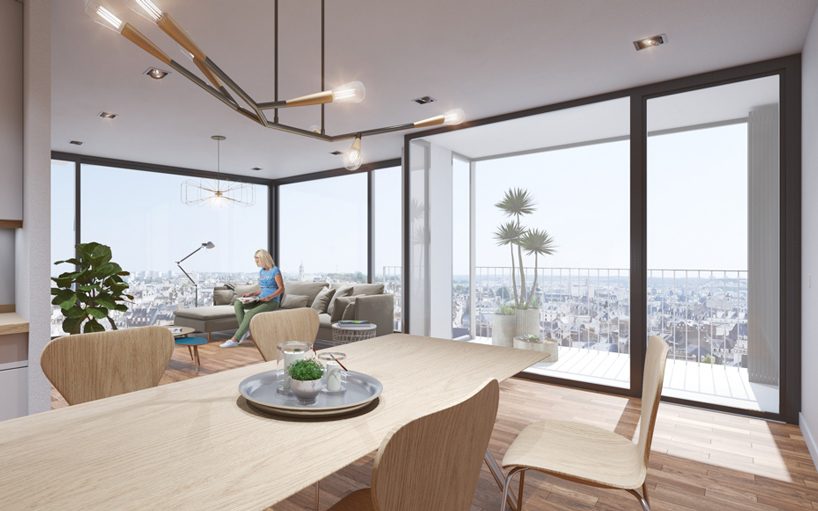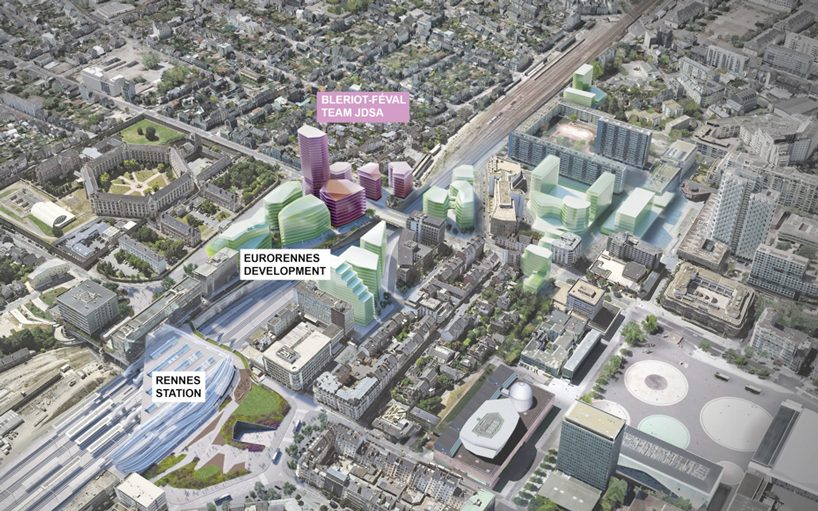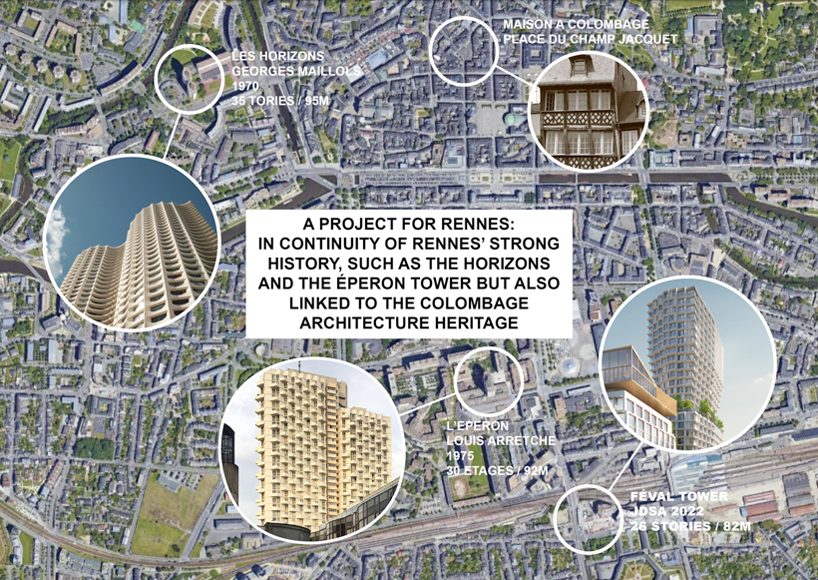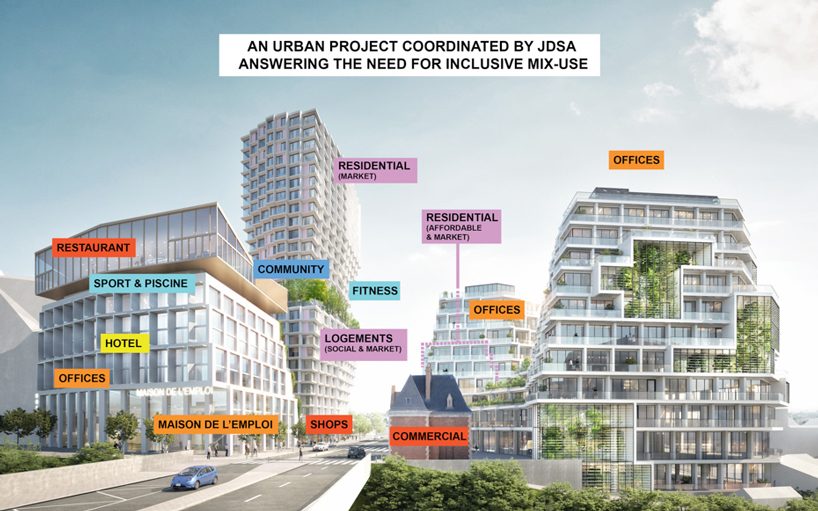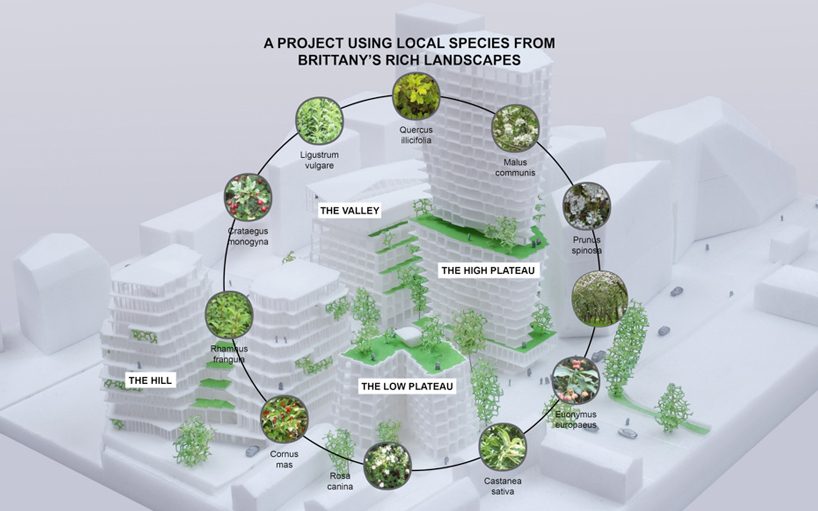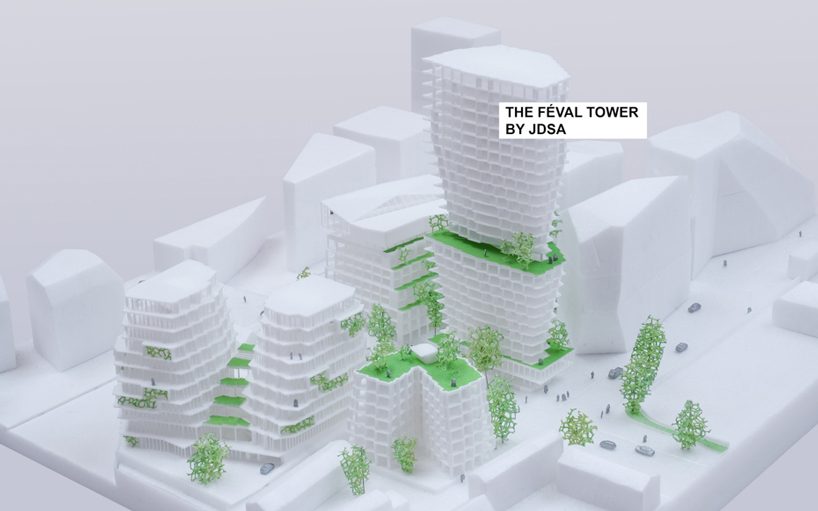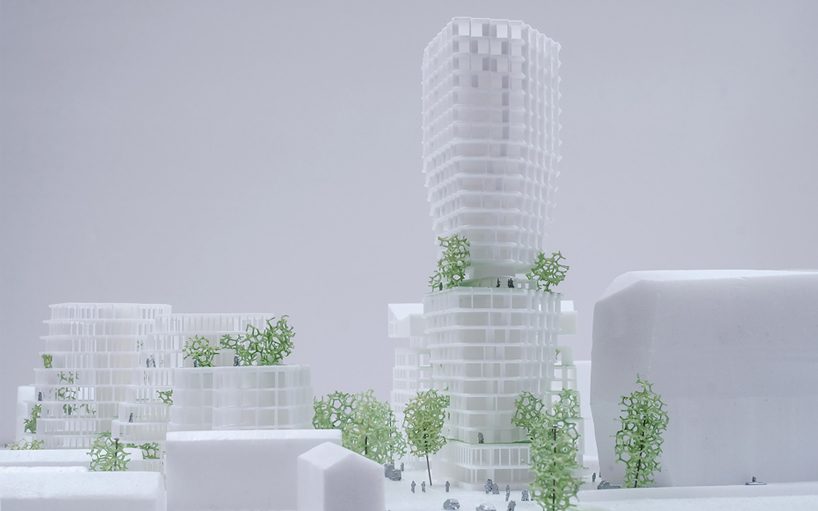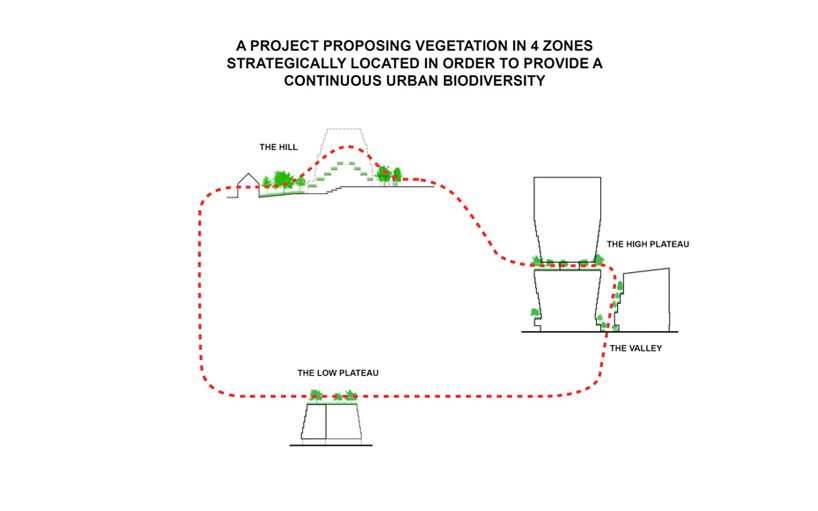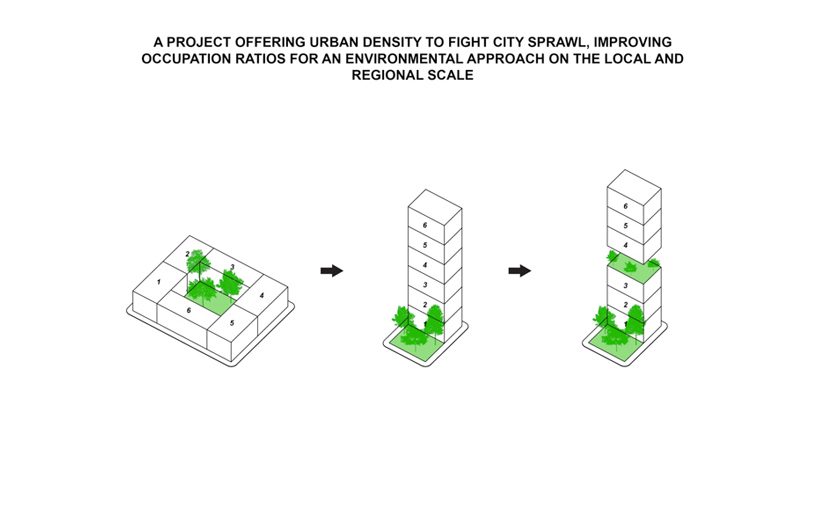 project info:
program: residential, office, retail, sport
location: rennes, france
project type: invited competition
status: 1st prize, ongoing 2019
size: 430,556 ft2 (40,000 m2)
client: samsic & bati armor
team: JDSA, SMAC, MAURER & GILBERT, THINK TANK
creative authorship: julien de smedt
project leader: guillaume gandoin
project team: anirudha agara, fabio liberati, vincent van kerckhove