URBANUS releases imagery of its yuehai community sport and cultural center, designed in response to an evolving attitude toward urban development in shenzhen. after undergoing a rapid and extensive period of 'urbanization,' the chinese city is currently entering a refined era of 'metropolitanization.' the existing architectural and urban developments throughout the city, including cultural and recreational facilities, are characterized as isolated islands with a lack of variance and contact with each other. this organization fails to meet the needs of the contemporary citizen. a diverse network of embedded cultural nodes is fast becoming the new direction for the city's development — resulting in a new urban public building typology that departs from the traditional social and architectural norms of the city.
the beijing-based architecture studio URBANUS follows this new method for urban organization with the yuehai community culture and sports center.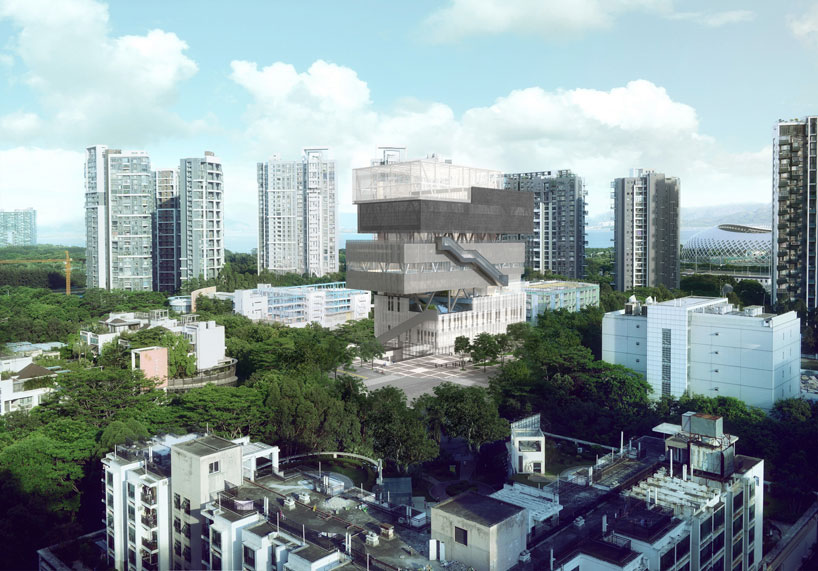 all images courtesy of URBANUS
the functions of sport and cultural centers had traditionally been separated, resulting in a building which is programmatically secluded and wholly functional, rather than interactional. fragmented public space surrounding these structures thus offers the opportunity for interaction between different groups of people, and has become a source of true vitality for these sites. in the design of the new yuehai community sport and cultural center, URBANUS ensures both the independent operation of all indoor facilities while providing as much public open spaces as possible to promote interaction. the design team integrates the public plaze throughout the project in three dimensions, eliminating the common conception that 'the open public space within a city was only limited to the ground plaza.'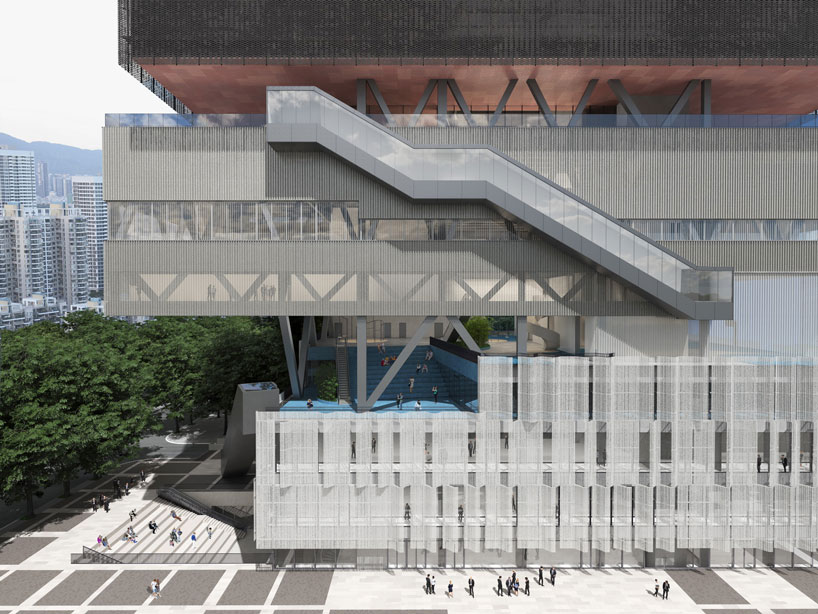 URBANUS elevates these public spaces and superimposes a vertical organization, generating a series of interconnected aerial public platforms situated at varying heights throughout the building. the permeating plazas encourage interaction between those within the building and the rest of the city. on this basis, the spatial boundaries are dematerialized between the horizontal layers, new flexible and public functions are inserted, which renders the platform layer an elevated urban living room that intrigues urban vitality. a new building type of three-dimensional public space has been generated.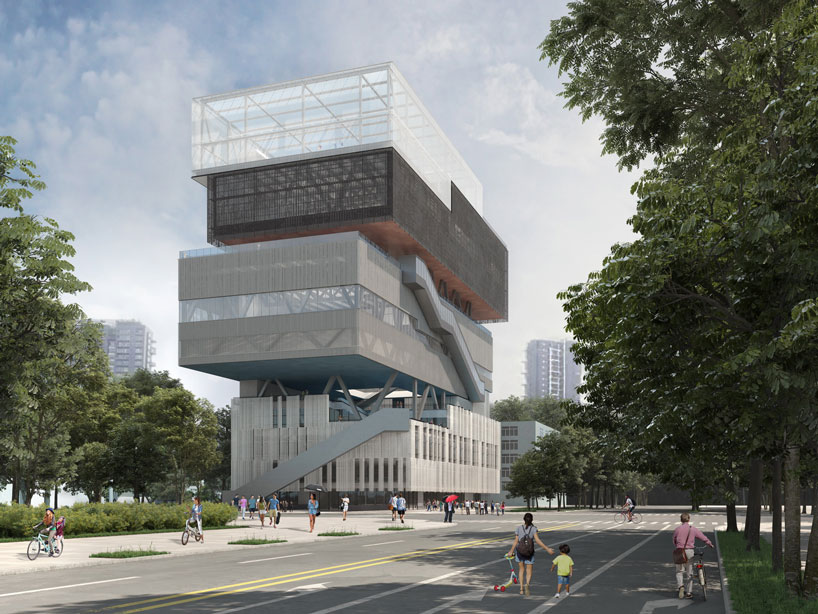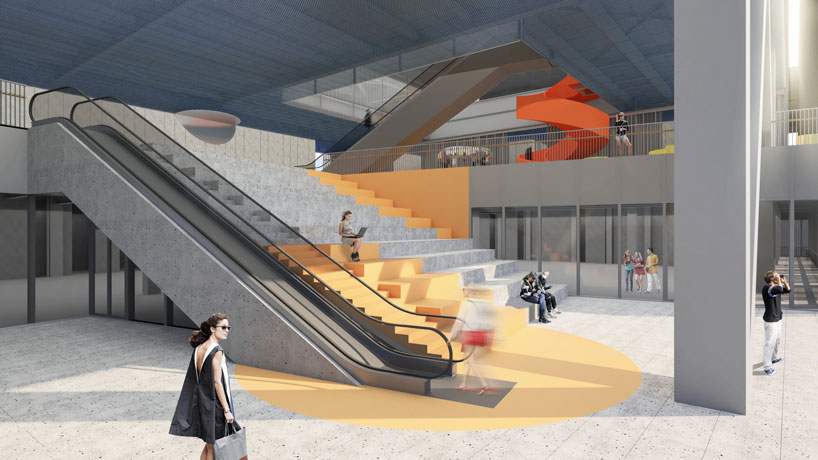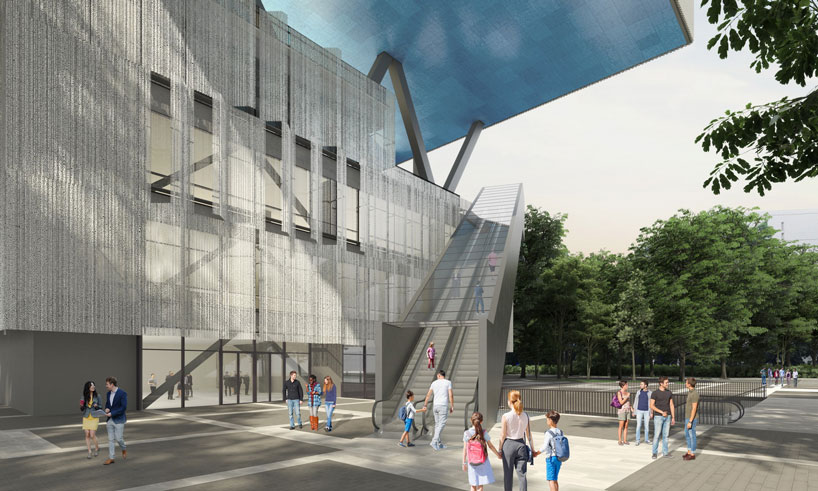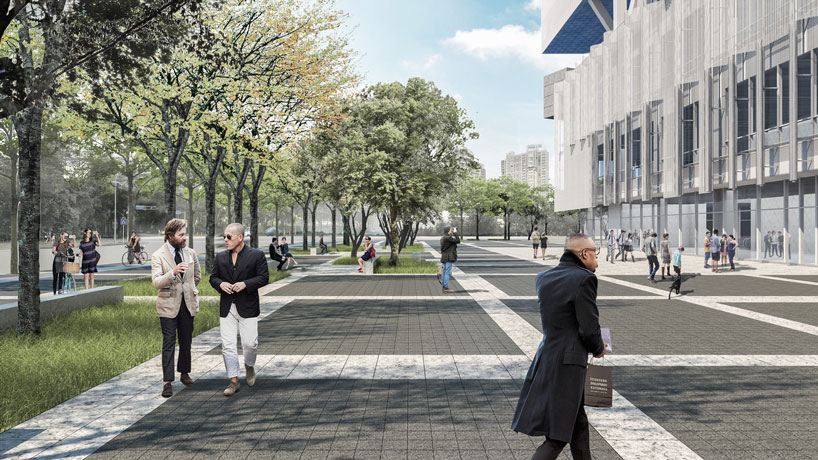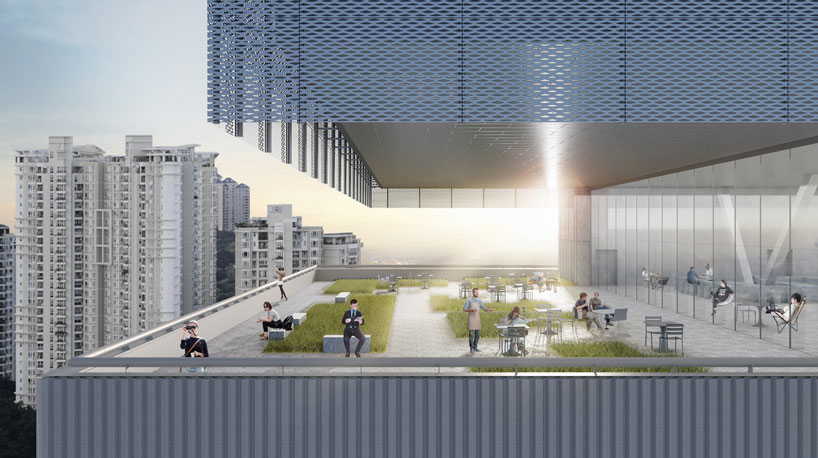 project info:
project title: yuehai community culture and sports center
architecture: URBANUS
client: public works bureau of nanshan district, shenzhen
location: nanshan district, shenzhen
project year: 2016 – ongoing
site area: 5,760 square meters
floor area: 38,911 square meters
principal architect: meng yan
competition:
project manager: lin yilin
project architect: milutin cerovic
team: chen hui, xu zhibo, shen chen, zhang xuejuan, zhang jiajia | rao enchen, li congyi, liu kan, yue ran, yang mingchuan, zheng zhi (design support) | yao yongmei, yao xiaowei (technical director) | wang yifan, zhang shijing (internship)
design development:
project general manager: lin haibin
project manager: zhang haijun, zhang jiajia
project architect: milutin cerovic
team: sun yanhua, liao mengjun, li xiang, you donghe, chen hui, zang min, zhang fujun, weng hua, zhang yingyuan, zhang chaoxian | zhang xuejuan, wei zhijiao, li guanda, xu xiao, xiong yangyang (landscape) | yao yongmei, yao xiaowei (technical director) | liu junrui, huang rong, luo siyang, song haocheng, wu ziyi, liu yunong, zhang yusheng, xiao xiao (internship)
structural design: li yongming, guo yanan, zhao yanguo, song yuying | h & j international
collaborators:
construction documents: china building design consultants
facade consultant: VS-A.HK ltd
facade: yuke international facade engineering design & consultant co., ltd.
green building: guoyan building technology co., ltd.
lighting design: aurora lighting
logo design: W & T design