boasting a prominent site overlooking the aegean sea, react architects has designed a summer residence amid the picturesque scenery of the greek island, paros. located in the town of laggeri, the new intervention has been orientated to maximize the views of the beach. considering the beautiful natural setting, the main concept behind the project focuses on creating a built form that is rooted into the topography, resulting in a low and minimal architectural expression.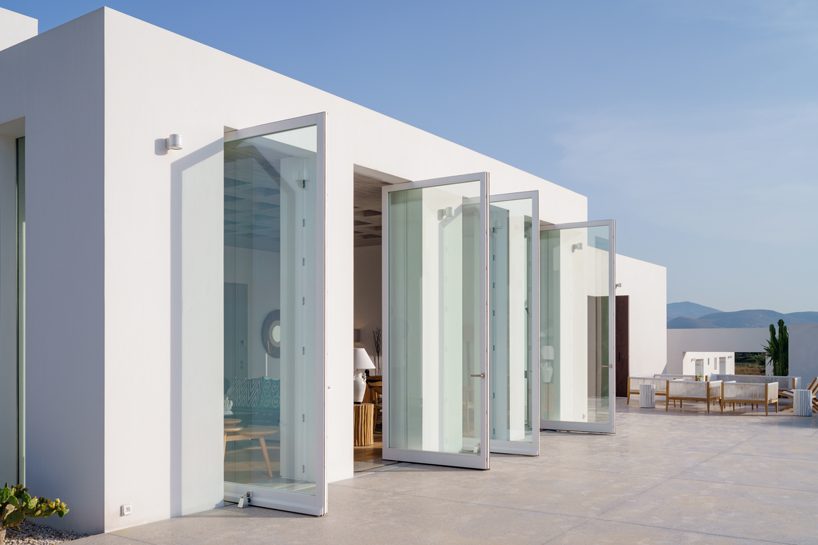 all images © george messaritakis
the summer residence is planned by react as a series of connected white volumes, which effectively separates the various functions. residents enter from the south side of the plot, and the highest point of the site. from here, they arrive into the social heart of the house, comprising the kitchen, living and dining areas. the master bedroom at the rear of the plan can be reached via the public areas, while the other sleeping accommodation is accessed by a courtyard, connecting the spaces to the main building.

the house is designed to forge a direct relationship with the surroundings through the use of outdoor spaces and courtyards. as an example of this, the back yard acts as the nucleus of house with direct reference to living areas and the enclosed 'blue' living room/patio. the beach-side location is also integrated successfully into the residence as the volumes are lined up to gain views over the sea and the pool and terrace are built to stretch out to the aegean.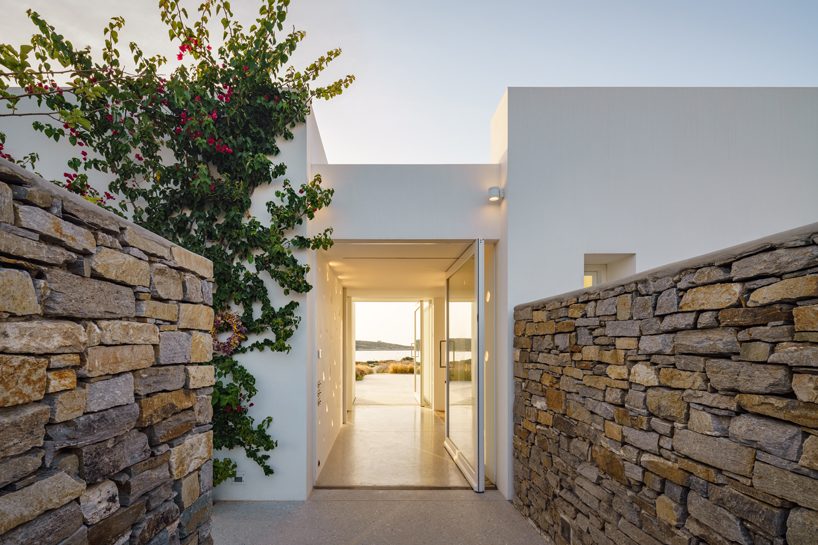 architectural emphasis has been given to the 'fifth façade' (roof plan), with the aim of exploiting the distinct geomorphology of the area so that the volumes can be harmonized and assimilated into the natural environment. landscape architecture is also incorporated into the project, covering most of the surrounding area of ​​the building with endemic vegetation, leaving intact a significant part of the plot that retains its original form.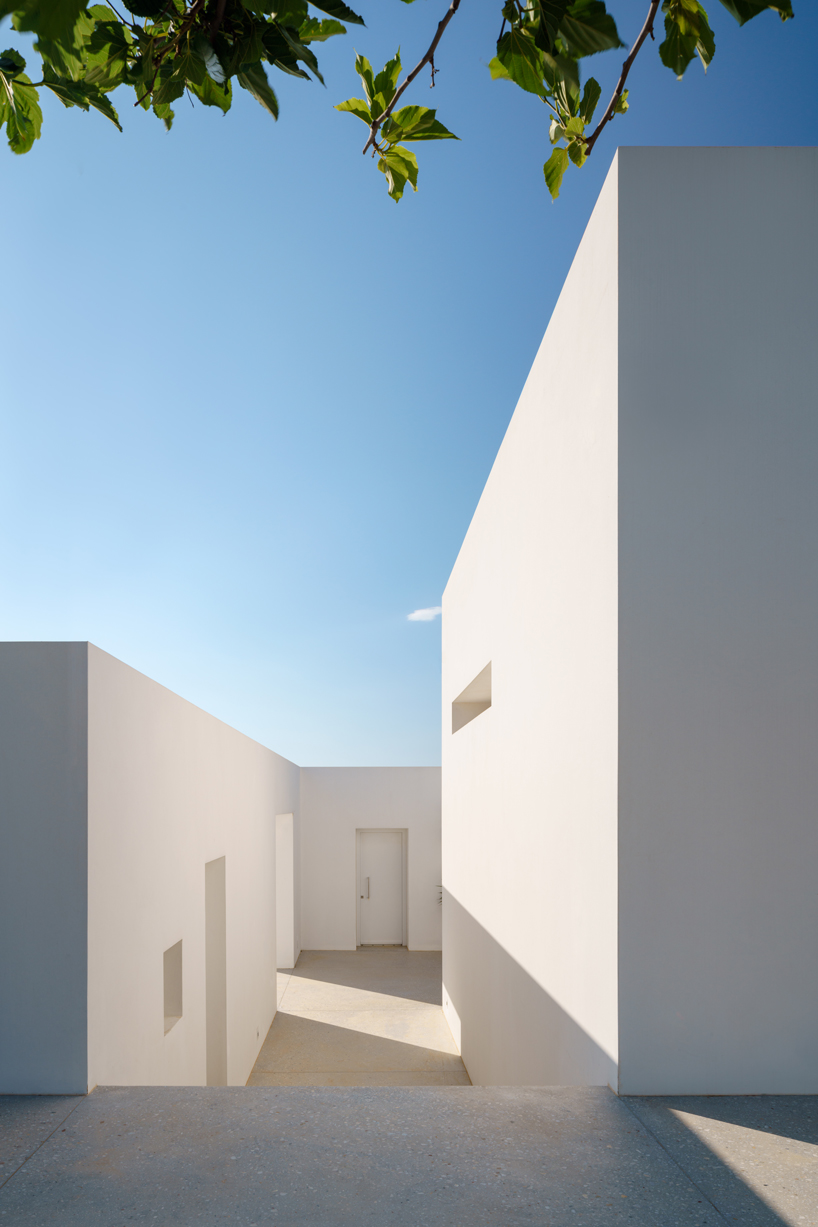 the interior is characterized by materials and colors that enhance the elements of  the architectural design and unify the exterior with the interior spaces. embracing elements of cycladic architecture, the house is mainly decorated in white with accents of blue, perfectly befitting the setting. in essence, the design intends to transform the morphological elements of cycladic architecture to create a contemporary architectural language that, rather than impose, complements the natural environment.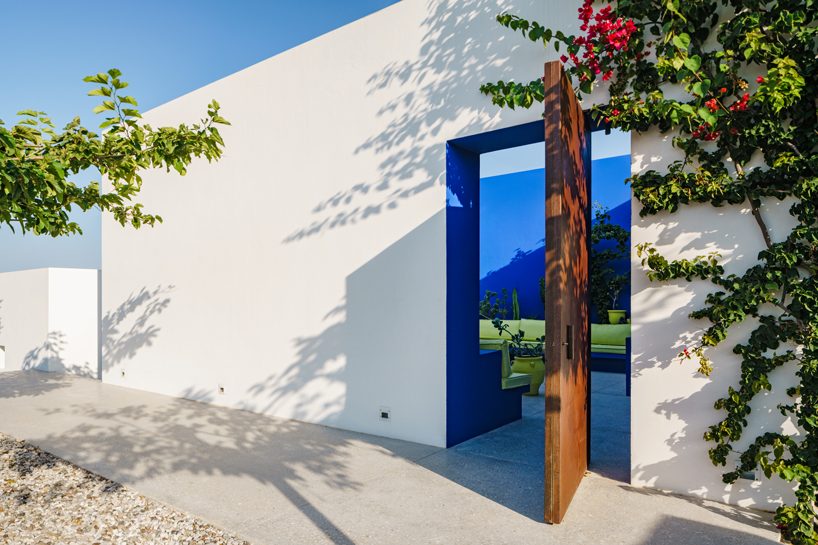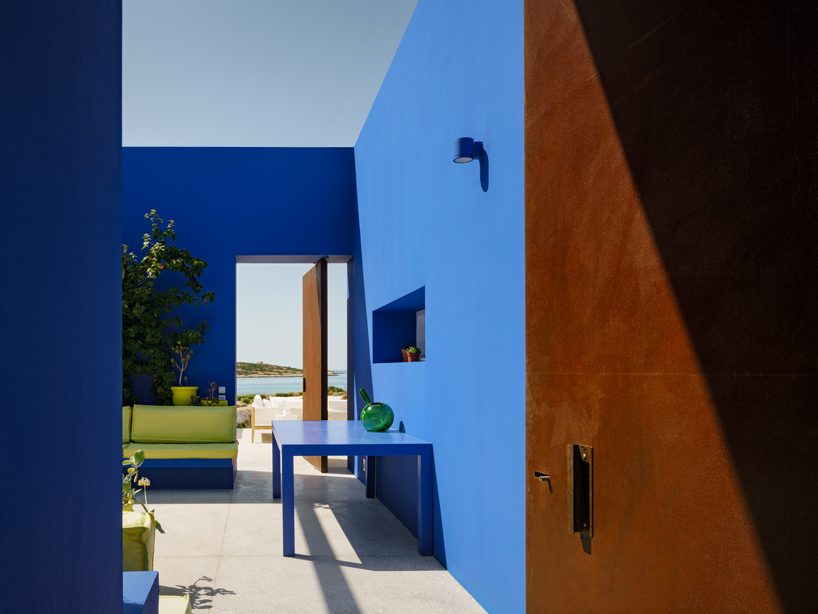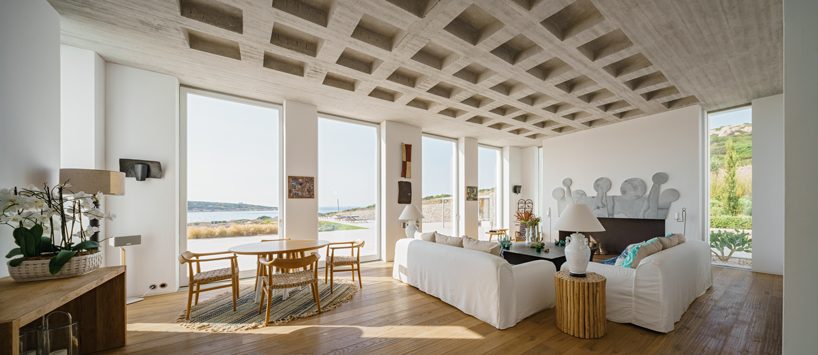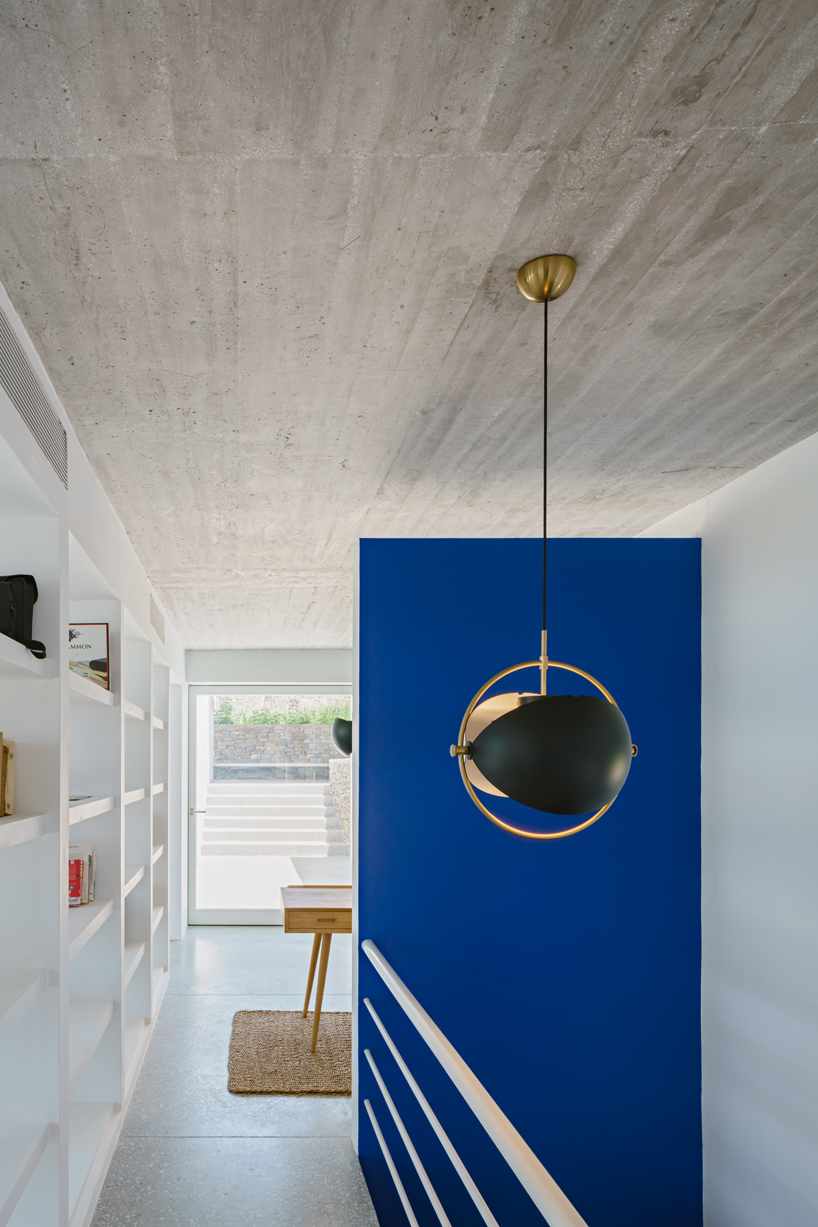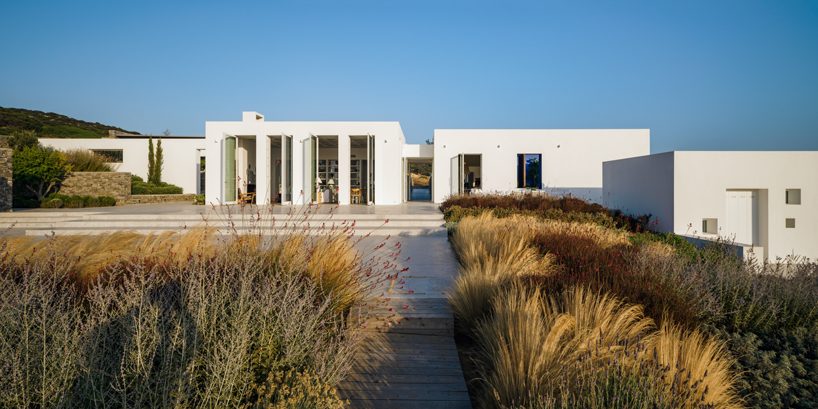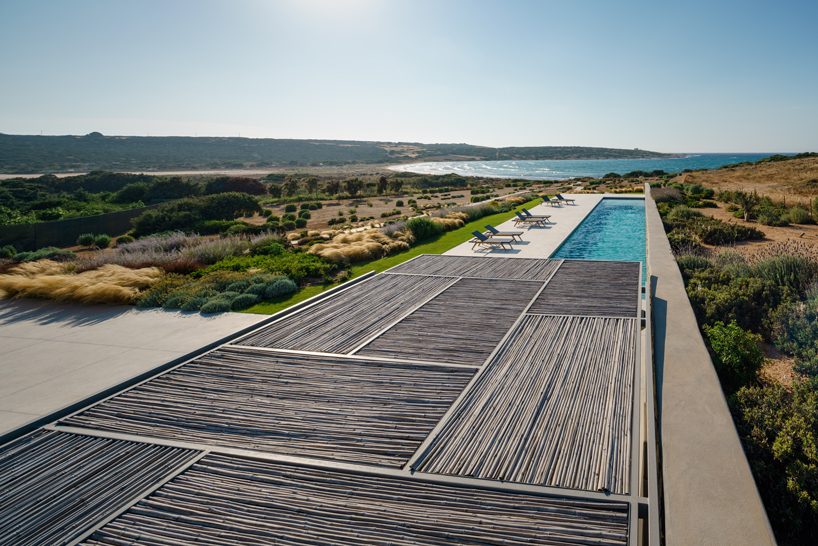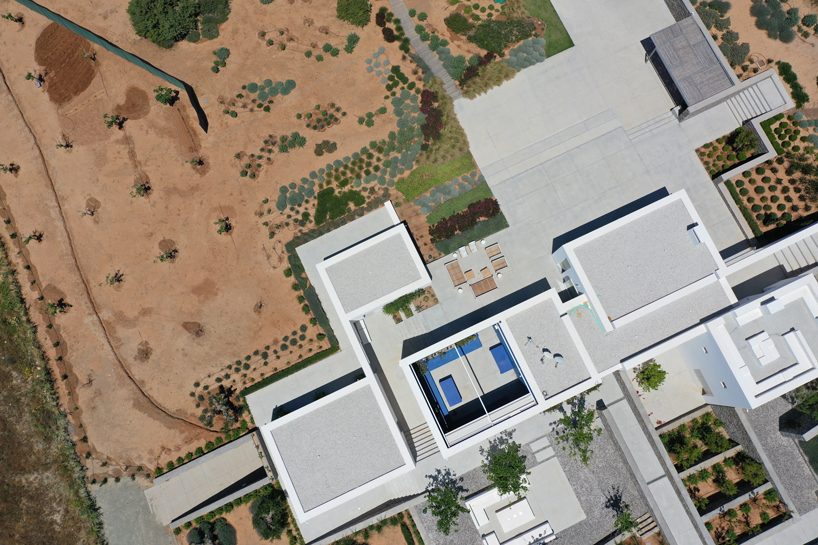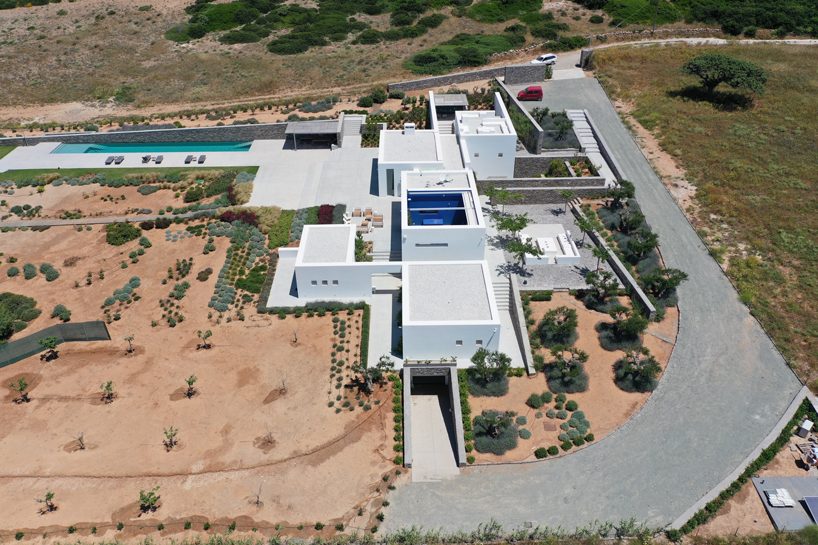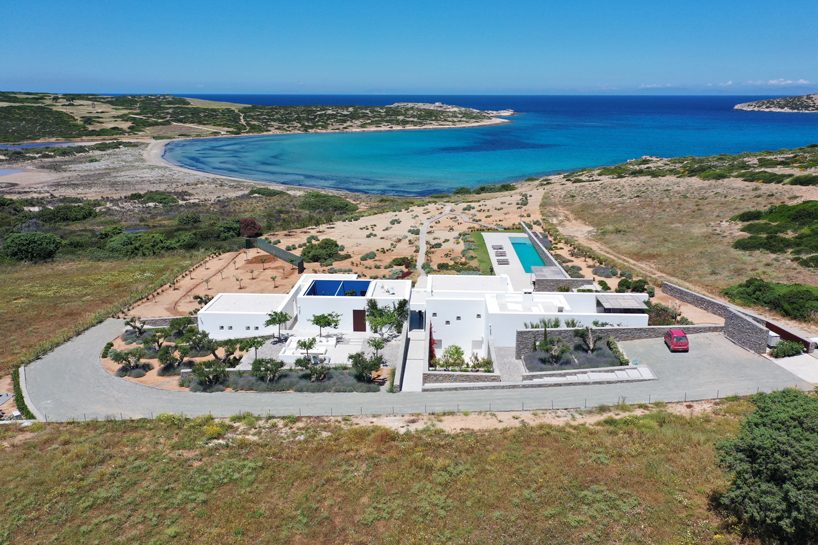 project info:
project name: the gaze
location: laggeri, paros, cyclades, greece
design by: react architects – christophe pingaud architecture
design team: natasha deliyianni , yiorgos spiridonos, christophe pingaud
collaborating architects: andreas androulakakis, tatiana tzanavara, marion vallerin
collaborating architect – supervision: giannis vagias
structural engineering: aggelos kottikas
E/M engineering: nikos chrystofyllakis
landscape design: outside – eva papadimitriou
photography: george messaritakis
3D visualization: andreas androulakakis , tatiana tzanavara, nikol georgopoulou
architecture study: 2016
construction: 2017 – 2018
site area: 96,875.19 ft2 (9,000 m2)
building area: 5920.15 ft2 (550 m2)