the owner of ibiza interiors and the nieuw designed a home on a remote mountain in the rugged north of ibiza, spain. the 100 year old warehouse that formerly served as a workshop and storage space, was turned into a contemporary guesthouse and showcase project for the designers.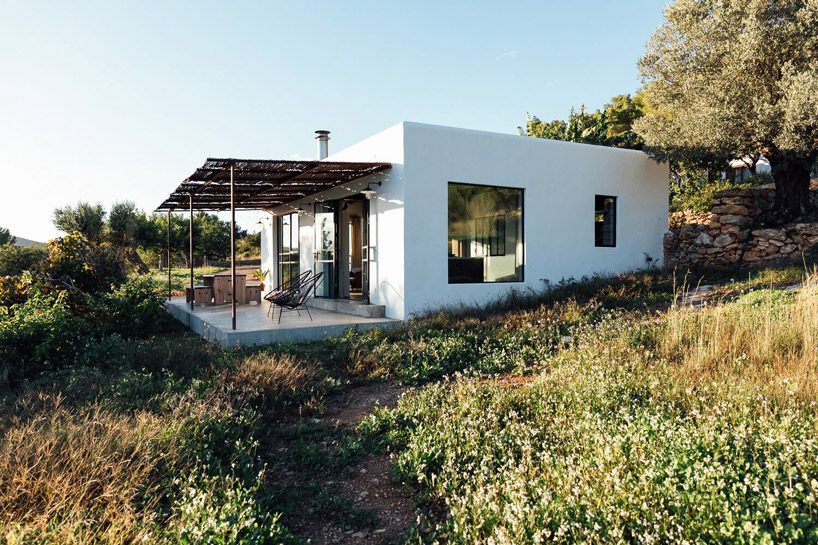 all images © on a hazy morning
the design concept was born when interior architect jurjen van hulzen, founder of both the nieuw and ibiza interiors, came across the abandoned structure amidst the picturesque location. the existing structure was composed of concrete columns and steel beams that carried the typical ibizan 'sabina beam' roof. the industrial structure and rustic roof inspired the design for the rest of the house, providing an interesting base combination. the play between the the styles and materials gave the house its name 'campo loft', which the designers describe as an 'industrial open living space on the field'.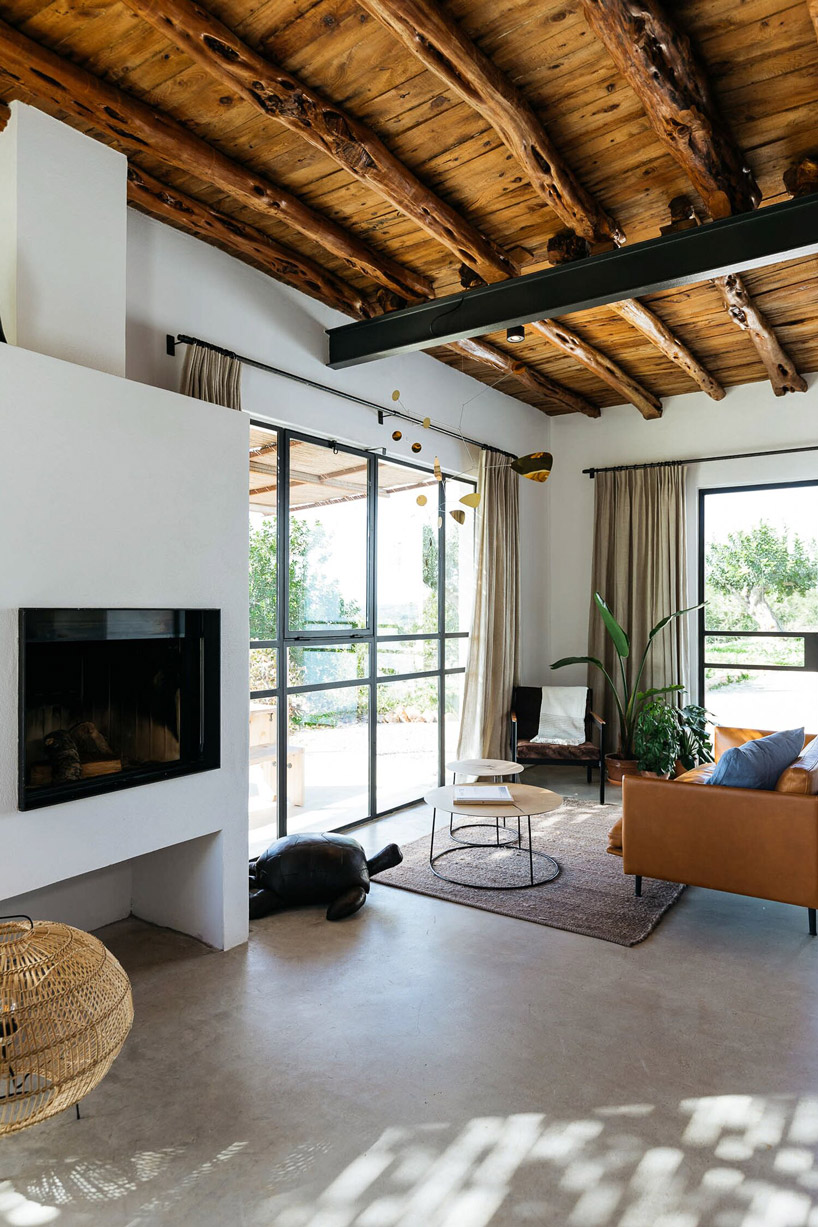 by keeping the traditional building structure, the designers chose to highlight the character of the typical ibizan architecture. the vernacular architecture called for local materials such as the concrete floor, chalk and mud plastered stone walls, and 'sabina beams' made from trees that only grow on the island. however, steel was a new material introduced into the space in the window frames, doors and the custom made kitchen.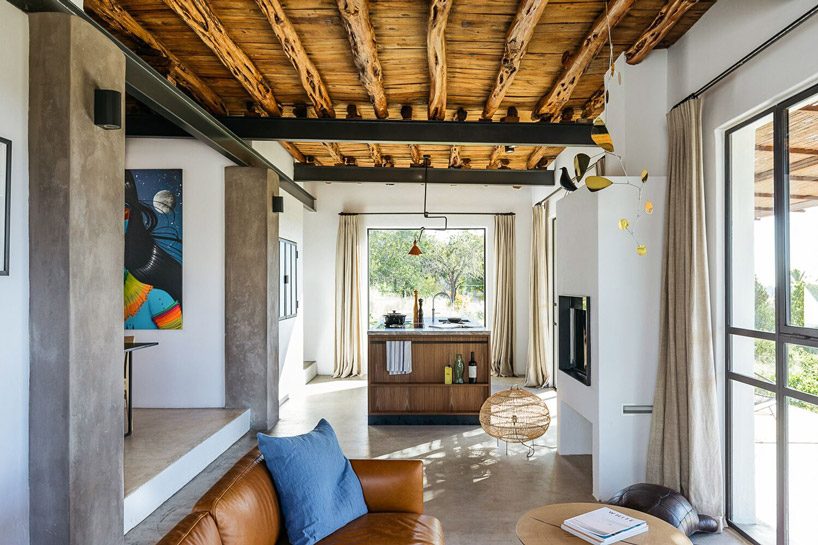 the abandoned building had no running water or electricity – all added to make the home habitable. the designers installed solar panels for hot water, floor heating and electricity, making the house off-grid and self-sustainable.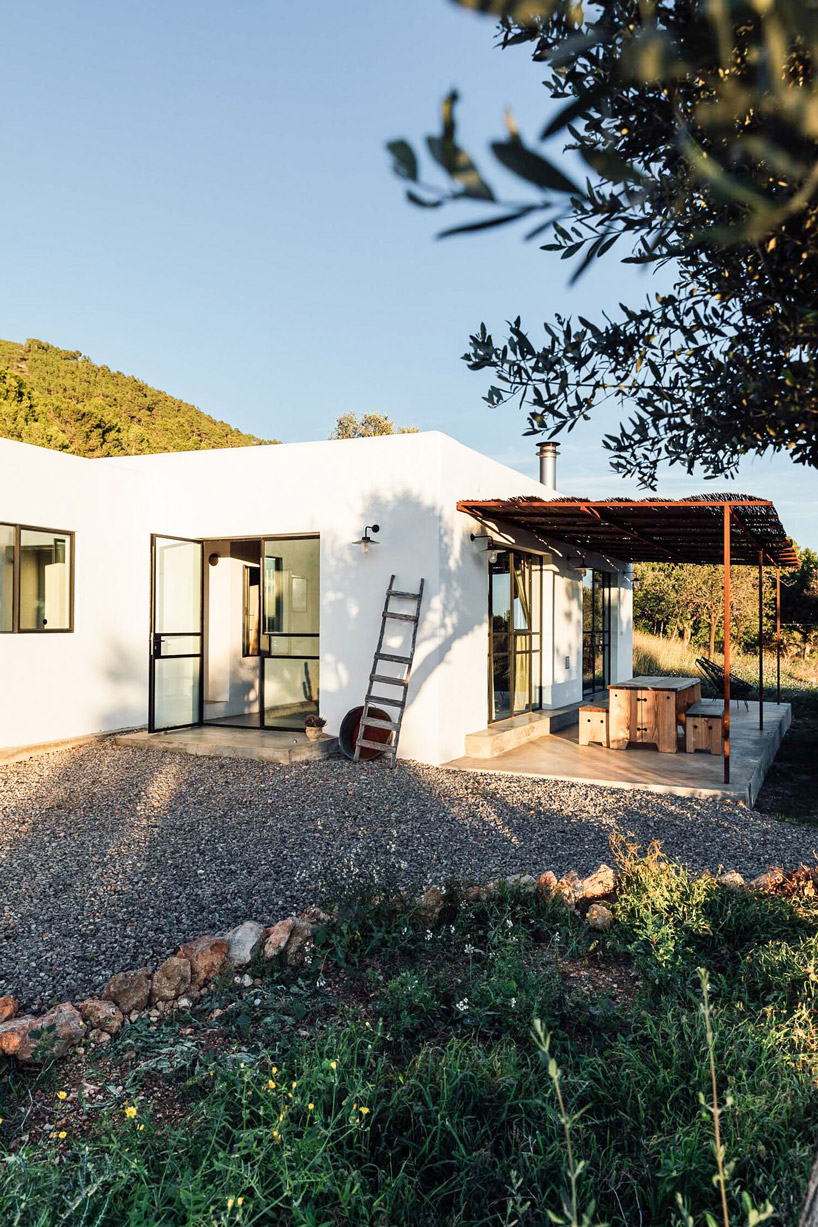 van hulzen designed the house to include a big, open space on the south side with views all over the valley. the main space connects to the private terrace, creating an ample social area. the area bleeds into the dining space, that features a built-in bench and a skylight. this seemingly forgotten part of the warehouse, turned into a light and airy dining area.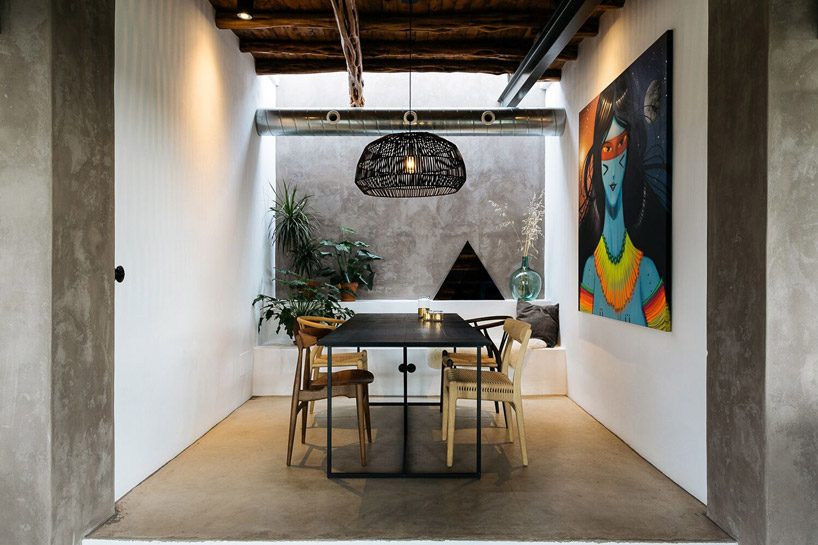 the two bedrooms face the north side, keeping them shaded and cool. they share the free standing bath, which includes operable windows that open up to the fireplace and the exterior. the bathroom's herringbone-patterned floor made from terra cotta tiles is a modern interpretation of the traditional spanish floor.
the loft was designed to become a comfortable and contemporary space that connects to its surrounding nature. to enjoy the mountain views and appreciate its environment, a yoga platform was placed on the roof and a fruit and vegetable garden was planted. the different contrasts dominate the project: old and new, sleek and rustic, light and dark, rough and soft, creating an aesthetic balance throughout. the ibiza campo loft is 'a unique place to relax and unwind, designed by and for design lovers'.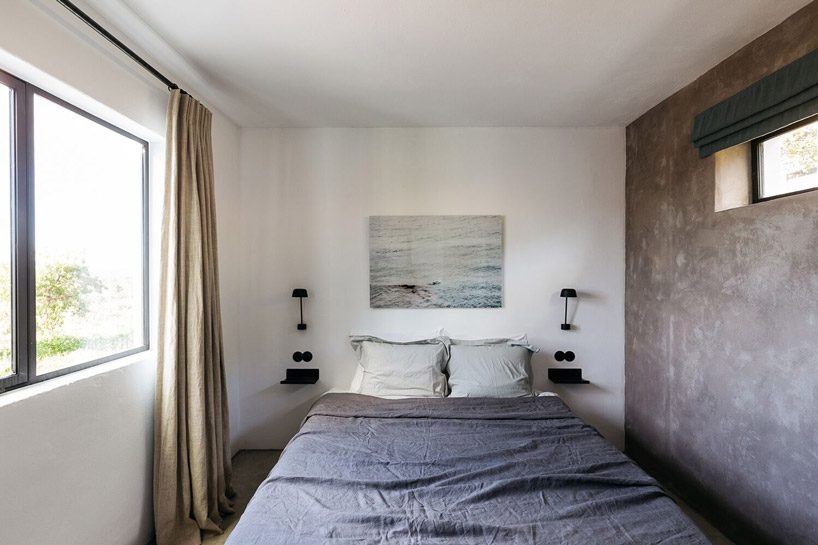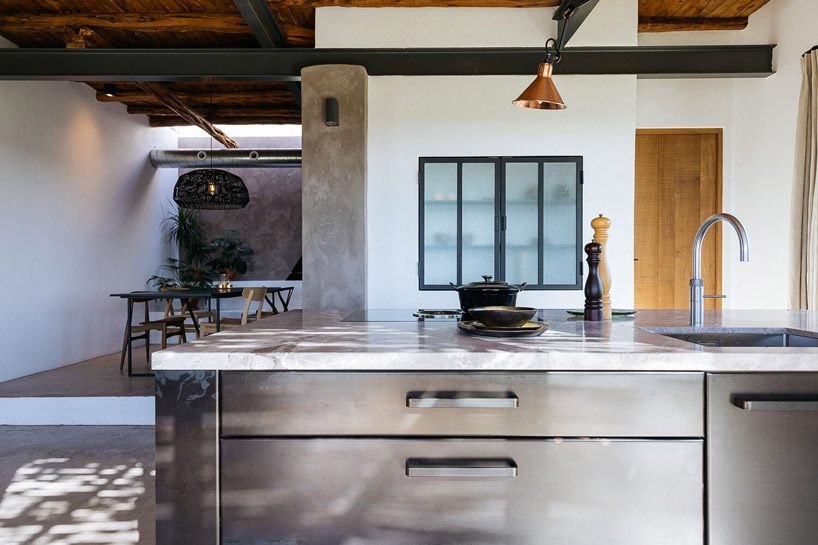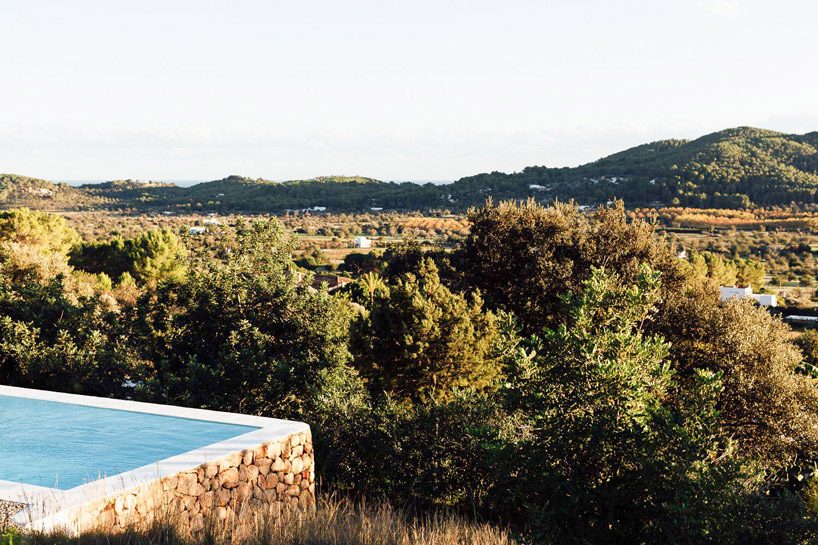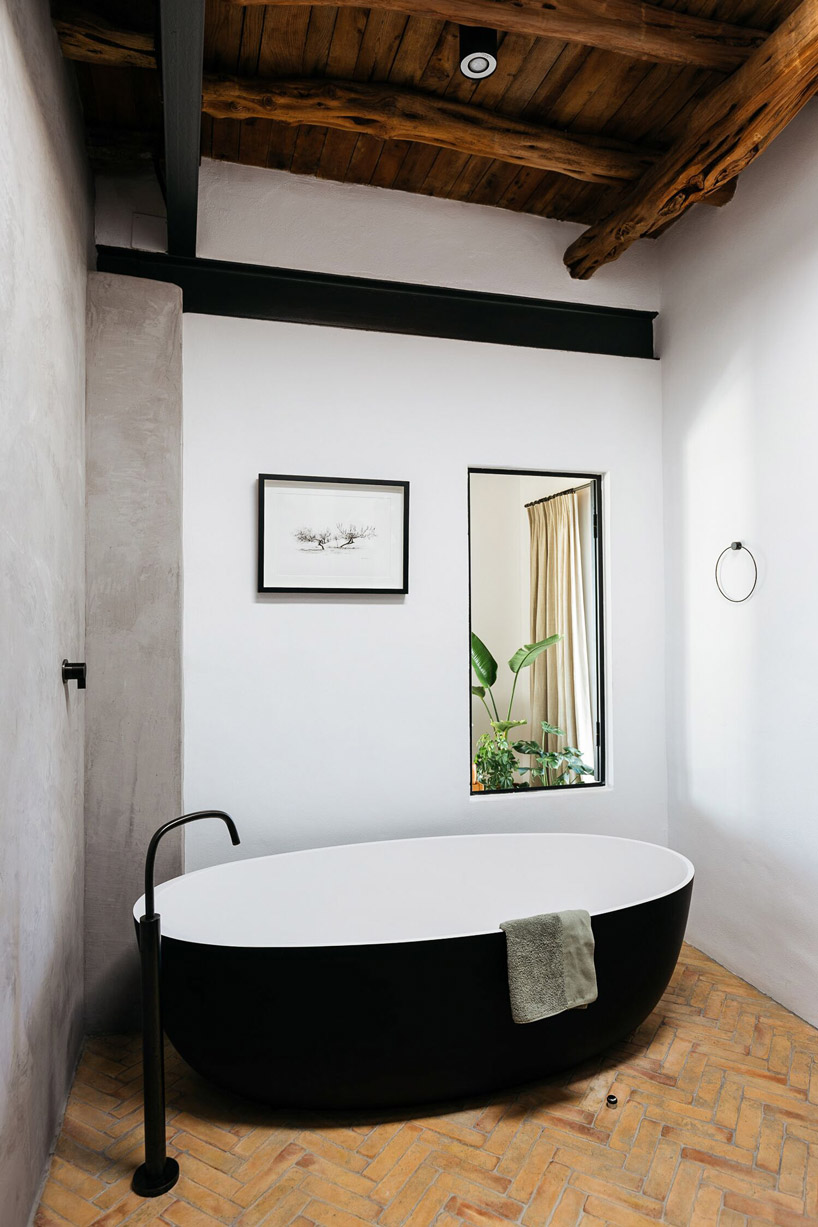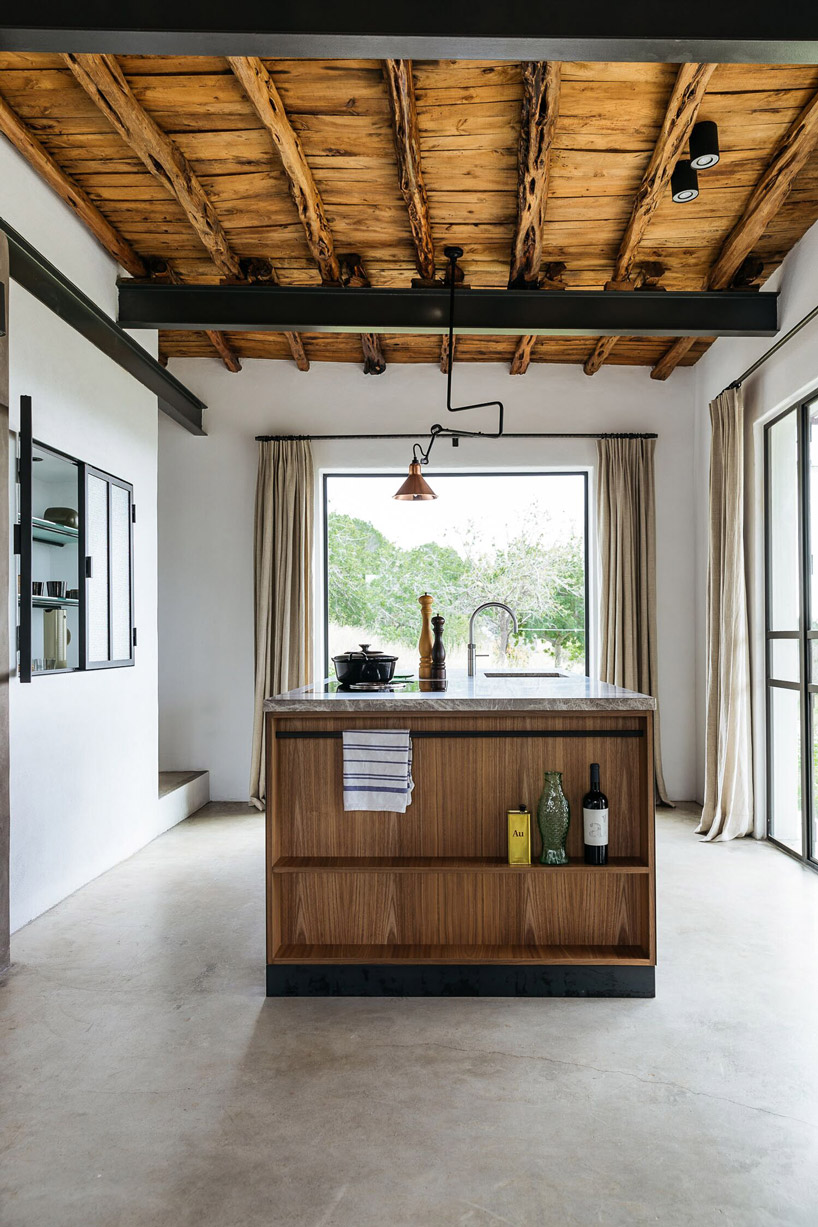 project info:
project name: the ibiza campo loft
client: ibiza campo
architect: the nieuw
interior designer: ibiza interiors
location: ibiza campo, san lorenzo, ibiza
total area: 80 sqm (861 sqft)
project team: jurjen van hulzen, giovani marchesi, ariadna puigdomenech, carmen van den hoogen
completion: 2018
photography: on a hazy morning
partners:
furniture: the modern
brands used: carl hansen, muuto, tinek, modernica, heerenhuis, ay illuminate, weltevree, serax, marie stella maris
kitchen: eginstill
art: broom & varossieau, lolo loren & oliver marder
beds: coco-mat
curtains: the modern fabrics
bathroom furniture: not only white
taps & shower: piet boon for cocoon
windows & doors: simply steel
cristina gomez I designboom
jun 05, 2019