new york-based firm diller scofidio + renfro has unveiled plans for 'the tide', a linear park in london that will run alongside the river thames. conceived as a 'destination for art, design, and well-being', the project is being developed in collaboration with neiheiser argyros and will feature artistic contributions from damien hirst and morag myerscough, among others. intended for running, walking, and meditation, the park is currently under construction on the greenwich peninsula and, once open, will be freely accessible to all.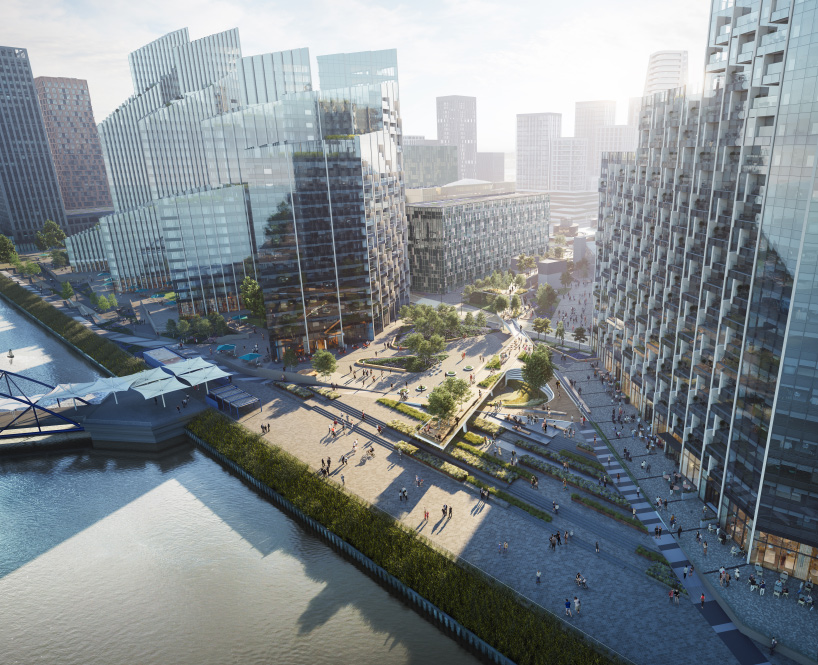 view of the east riverfont with 'the tide' at the center
image by uniform
designed by diller scofidio + renfro in collaboration with neiheiser argyros and landscape architects GROSS.MAX, 'the tide' is billing itself as london's first 'elevated linear park'. as part of the scheme, bridges between elevated timber decked 'stepping stones' planted with native trees and natural vegetation provide visitors with platforms to pause, reflect, and enjoy views of the river thames.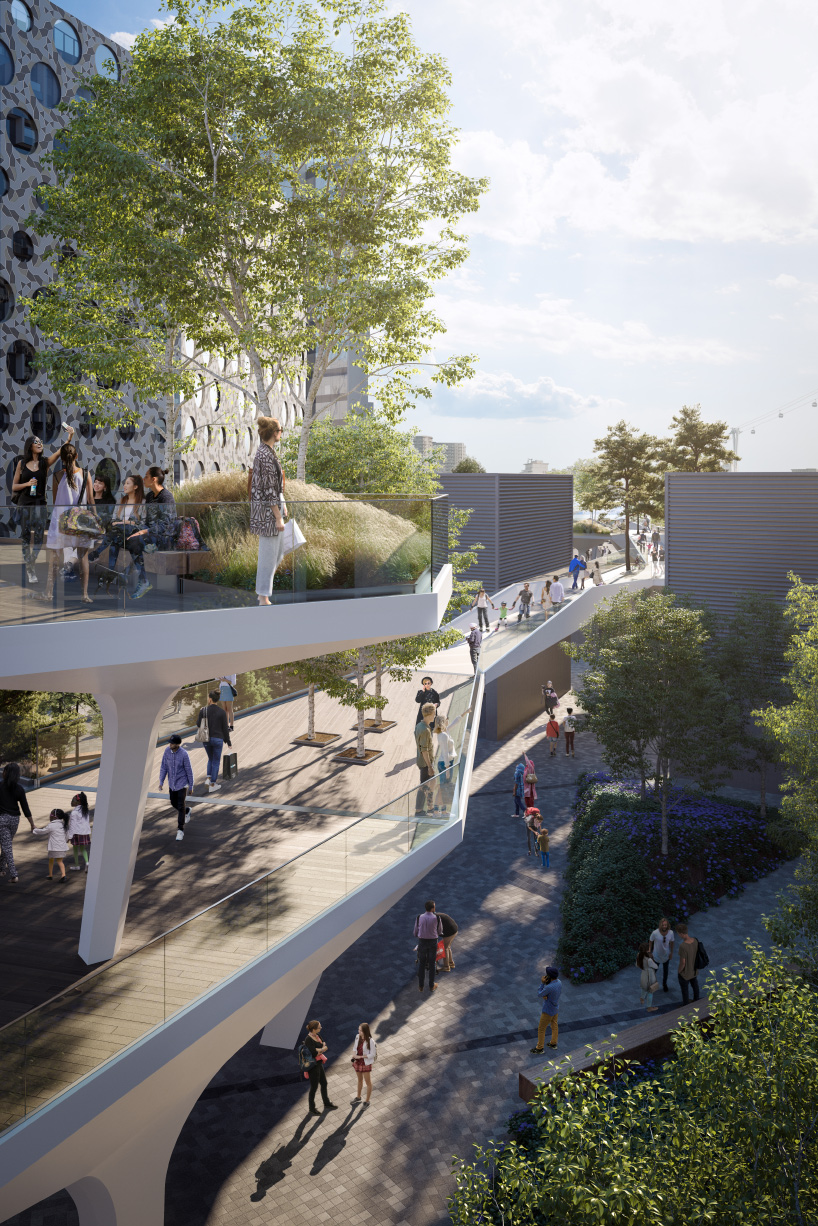 the first phase of the project involves the creation of an 'elevated overlook'
image by uniform
opening in july 2019, the first kilometer of the 5-kilometer-long landscape features elevated walkways 9 meters (30 feet) high. meanwhile, sunken gardens, a long outdoor picnic table, and a jetty garden provide respite from the city bustle. evolving over the years, the finished route will connect each new peninsula neighborhood as they are built, weaving among the new buildings. a distinctive black and white stripe pattern seeks to establish a bold visual experience, while reflecting the movement of the neighboring river.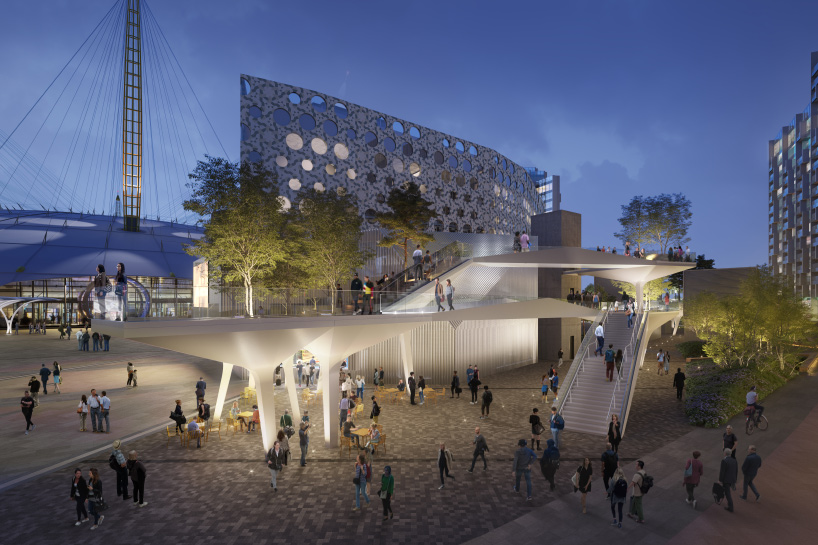 the project comprises a series of pavilions and islands connected by the walkway
image by uniform
'the design of the tide seeks to embed a new public realm into the daily rhythms of greenwich peninsula by layering together its currents of activity into a thickened landscape,' explains diller scofidio + renfro partner-in-charge, benjamin gilmartin. 'visitors will experience the park from varying vantage points, from street level up to nine meter high elevated paths that weave through the site to plug into the existing network of leisure, art, and social life across neighborhoods. diverse programming along the way will act as islands that welcome the surges of commuters, visitors, cyclists and runners, while also providing intimate places of pause for contemplation, conversation, and people watching.'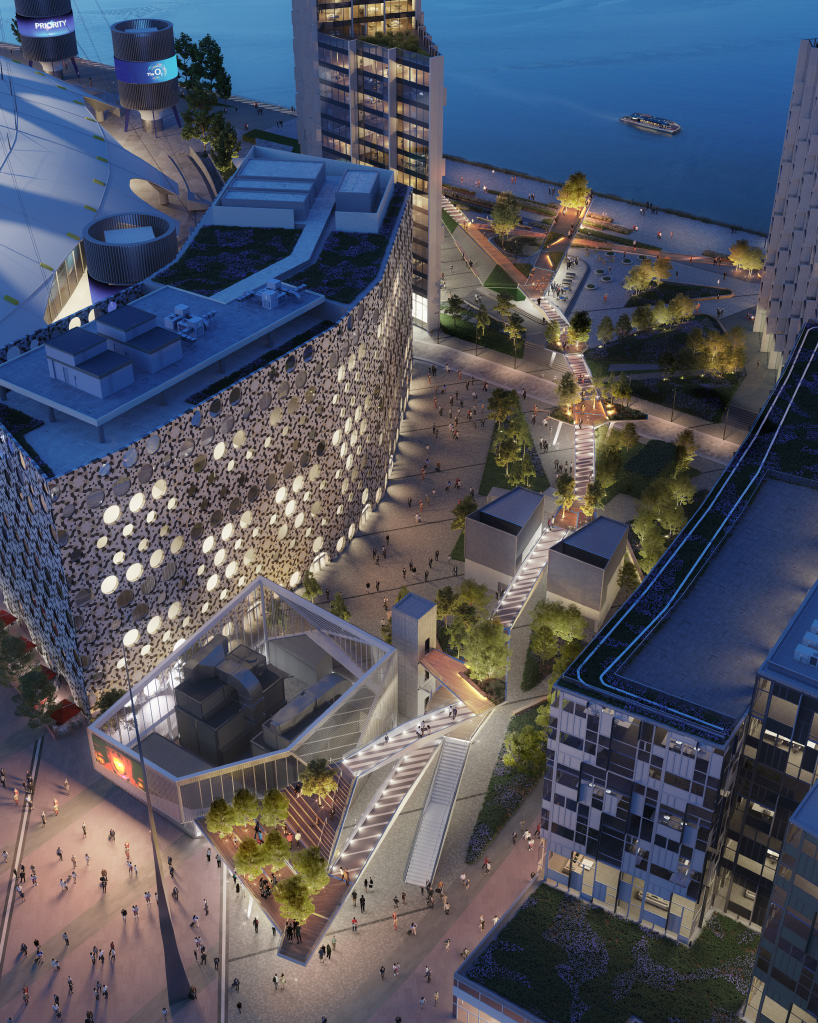 evening aerial view towards the river thames
image by uniform
damien hirst's two sculptures hydra & kali and mermaid from treasures from the wreck of the unbelievable will be the site's first arrivals, with more of his work to follow. under the elevated walkway is a boldly colored installation by morag myerscough that illuminates the tide's arches with her signature super-graphics. the first one-kilometer of the tide will open on july 5, 2019.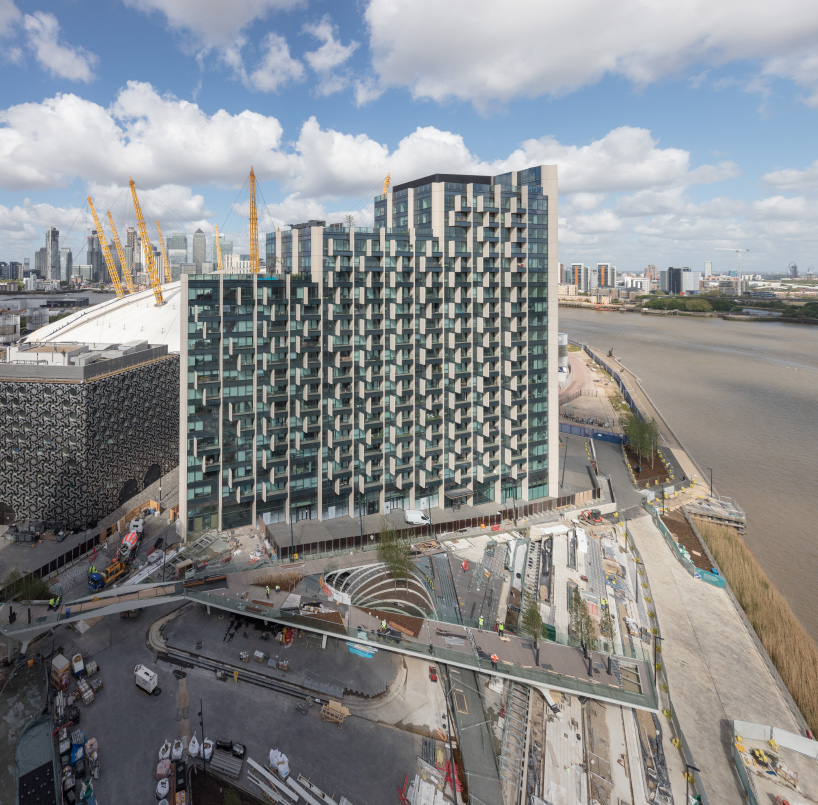 aerial of phase 1 with view towards the thames, O2 arena, and ravensbourne college (by SOM)
image by luke hayes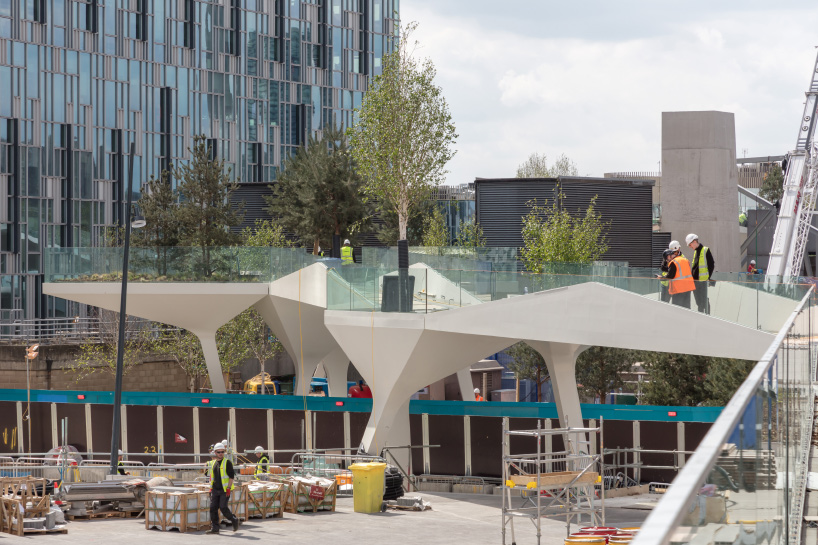 trees and other vegetation will be incorporated as part of the scheme
image by luke hayes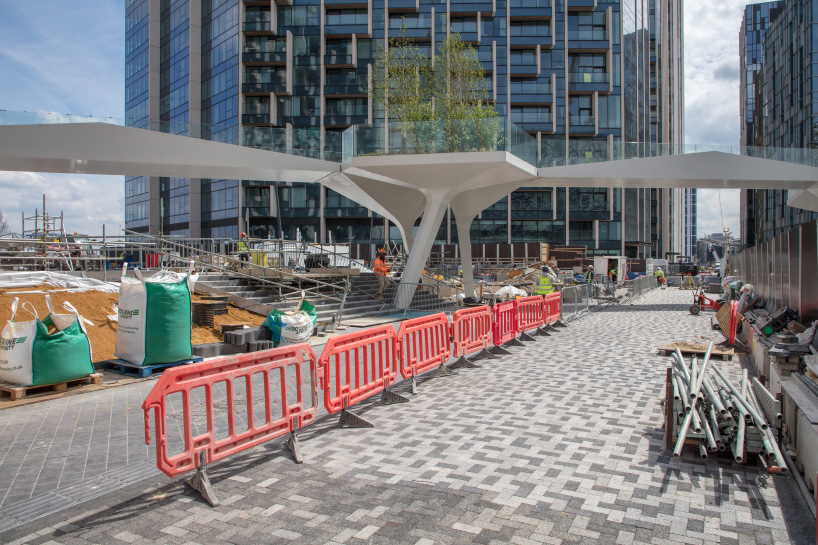 the linear park spans over existing walkways and thoroughfares
image by luke hayes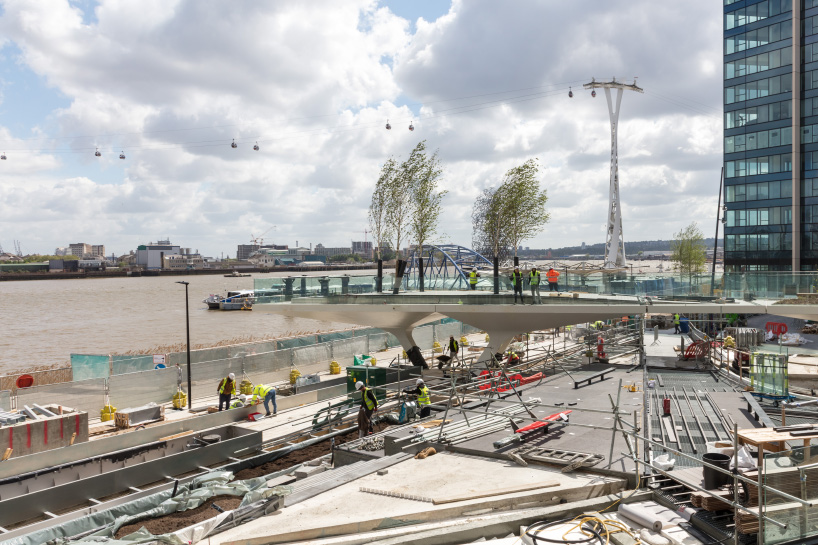 the walkway presents views of the adjacent river
image by luke hayes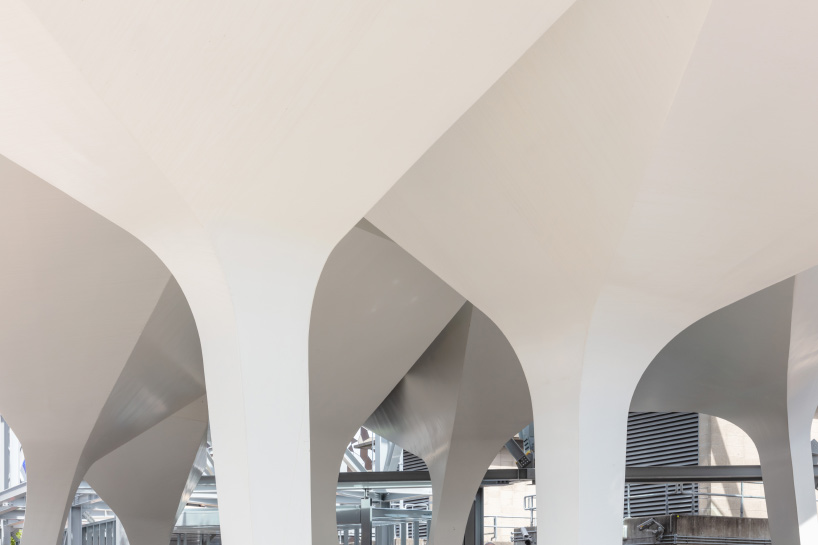 detail shot of steel structural supports from ground level
image by luke hayes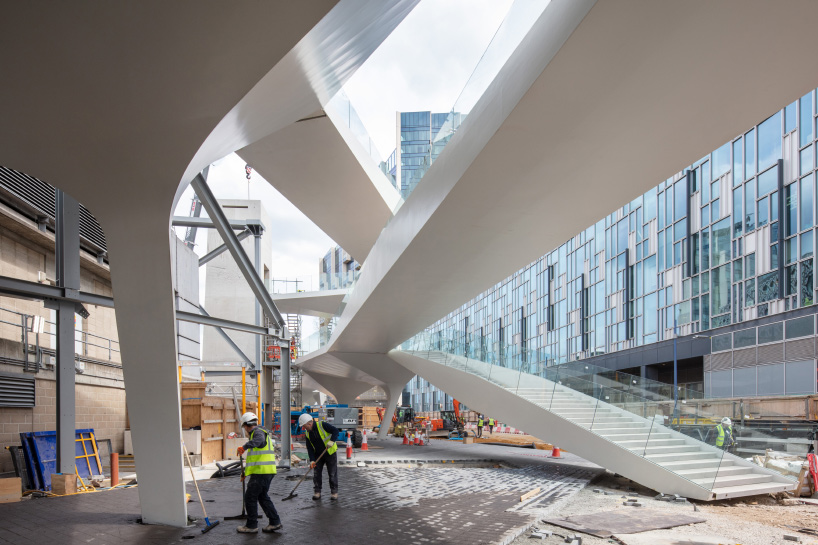 view of prefabricated steel bridges
image by luke hayes
project info:
name: the tide
design: diller scofidio + renfro (lead) in collaboration with neiheiser argyros
landscape architects: GROSS.MAX
location: london, UK
client: greenwich peninsula
status: under construction, phase 1 opening in july 2019

philip stevens I designboom
may 09, 2019