bjarke ingels group has completed a residential building in copenhagen that provides accommodation for low-income citizens. named after its address in the northwestern part of the danish city, 'dortheavej' winds through an area characterized by car repair shops and other industrial buildings from the mid 20th century. the timber-clad five-storey structure contains a total of 66 generously proportioned homes with 3.5-meter-high ceilings (11.5 ft) and outdoor terraces.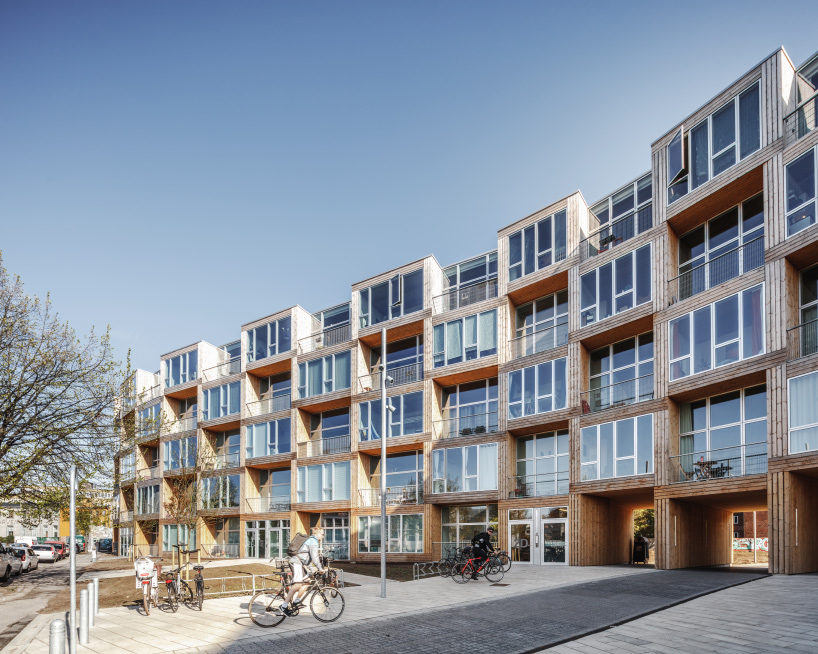 all images by rasmus hjortshøj
BIG was commissioned for the project by lejerbo, a non-profit affordable housing association. the brief called for the creation of much needed affordable housing and public space, while keeping the site's existing pedestrian passageways open and the adjacent green yard untouched. conceived as a porous wall, the building gently curves at its center, creating space for a public plaza on the south side and an intimate green courtyard to the north. at street level, the building opens up to allow both residents and the general public to pass into the courtyard.

the building provides accommodation for low-income citizens
the height of the building matches the scale of the surrounding neighborhood, with the stacked nature of the design creating space for the small outdoor terraces to the south. long wooden planks cover the façade on all sides, accentuating the checkered pattern. internally, large floor-to-ceiling windows ensure daylight and views — qualities that define the project's living spaces. meanwhile, the square created by the building's curve has been landscaped with cherry trees and spaces for bicycle parking.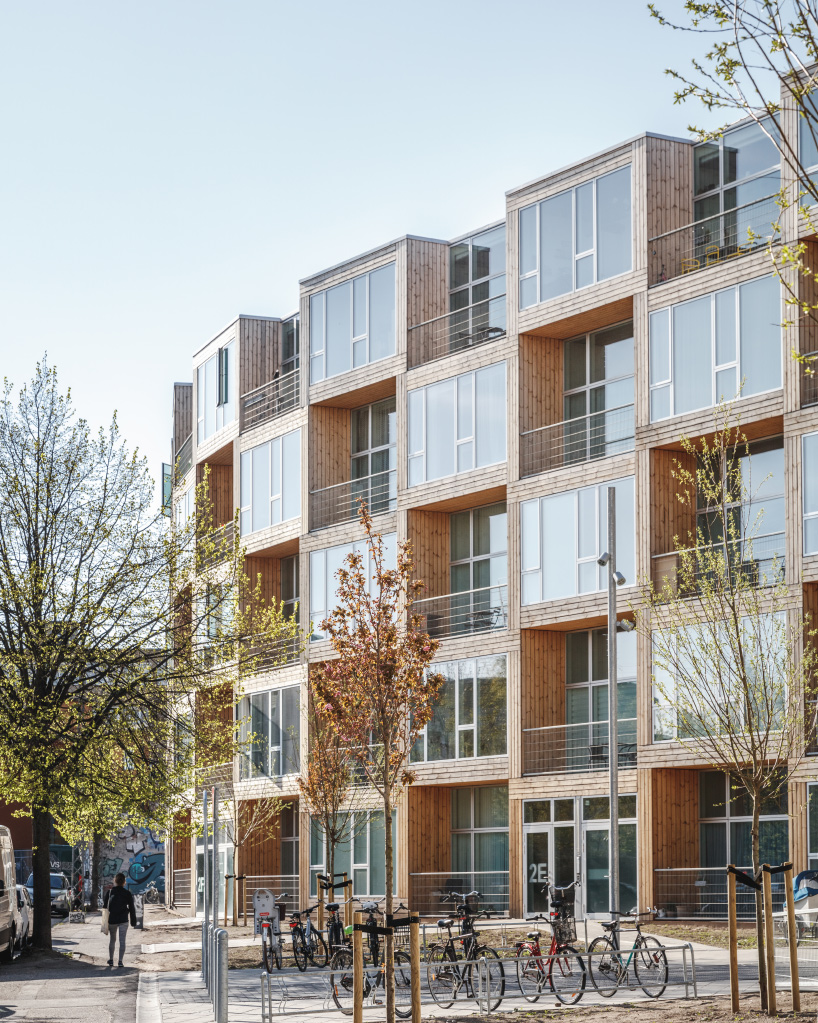 the square created by the building's curve features cherry trees and bicycle parking
'affordable housing is an architectural challenge due to the necessary budget restrictions,' explains bjarke ingels. 'we have attempted to mobilize modular construction with modest materials to create generous living spaces at the urban as well as the residential scale. the prefabricated elements are stacked in a way that allows every second module an extra meter of room height, making the kitchen-living areas unusually spacious'.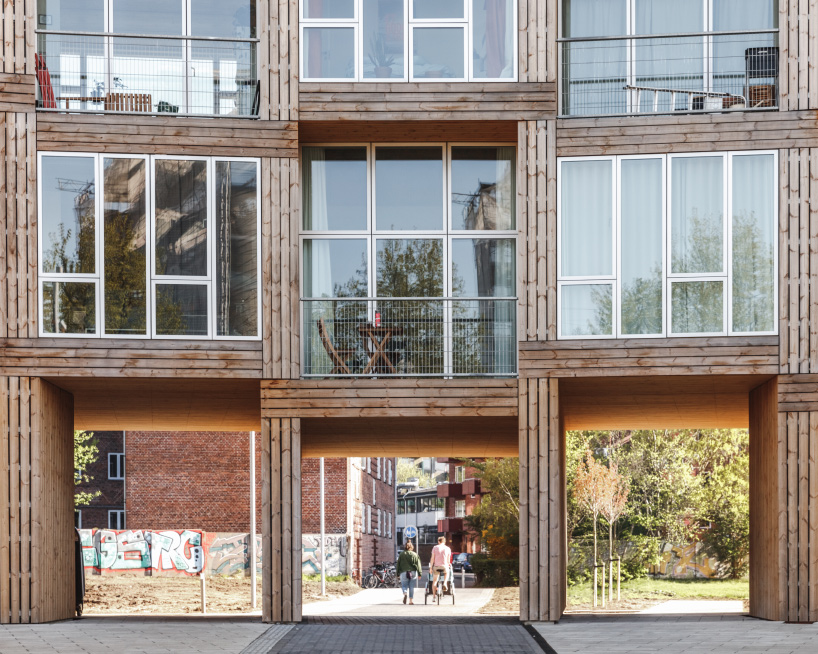 the site's existing pedestrian passageways had to remain open the public
'by gently adjusting the modules, the living areas open more towards the courtyard while curving the linear block away from the street to expand the sidewalk into a public square,' ingels continues. 'economical constraints often lead to scarcity — at dortheavej, we have managed to create added value for the individual as well as the community.'
'our ambition was to create affordable apartments by the world's leading architects,' adds jan hyttel, president, lejerbo copenhagen. 'together with BIG, we have succeeded in creating sustainable, safe and functional homes that see eye to eye with the people who live in them.'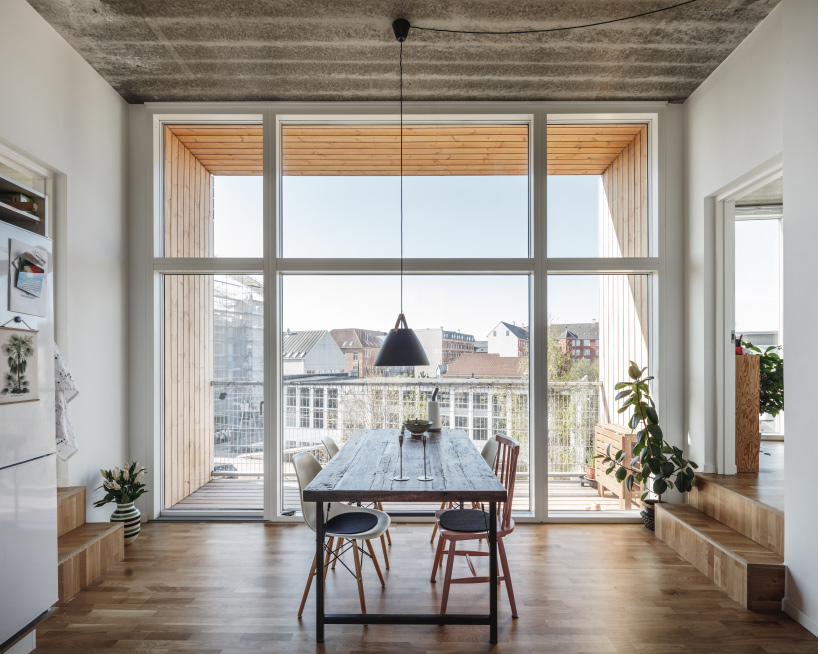 large floor-to-ceiling windows ensure daylight and views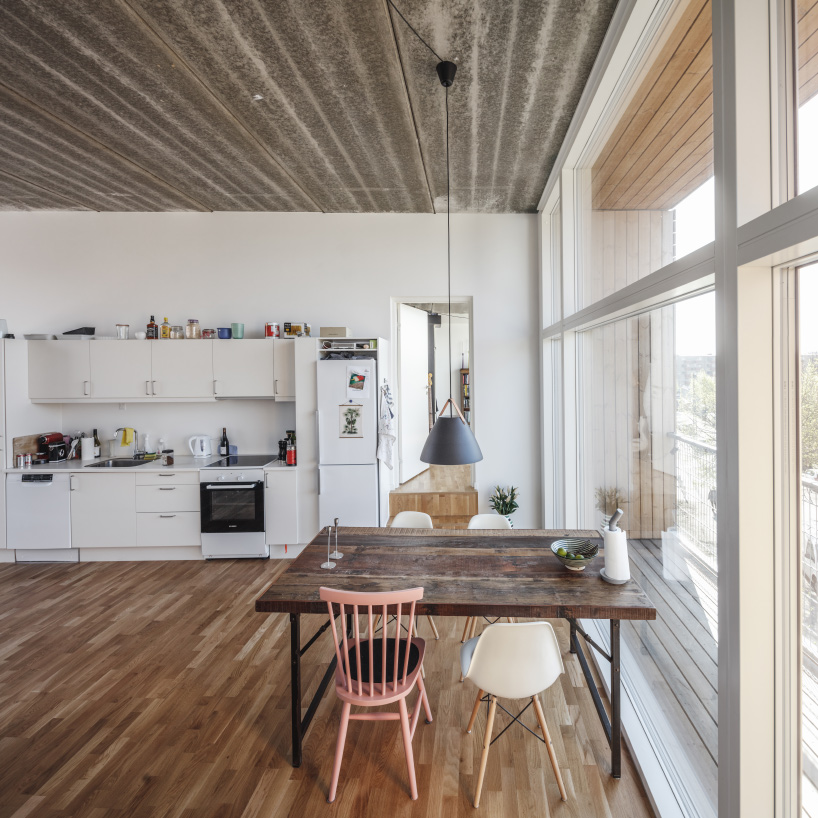 a small terrace provides valuable outdoor space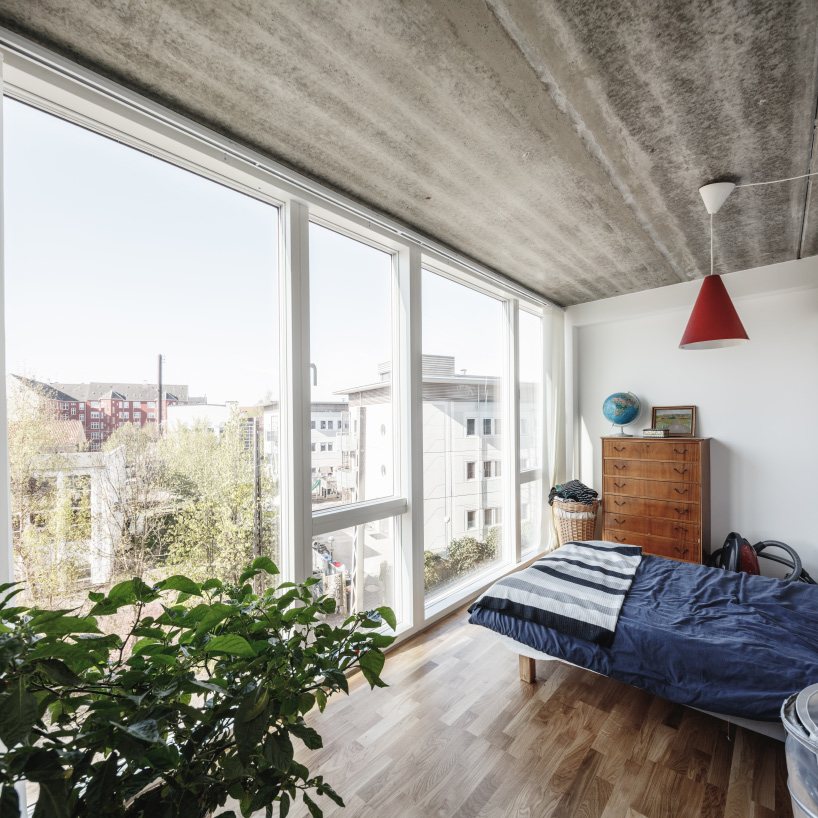 ceiling heights reach 3.5 meters, or 11.5 feet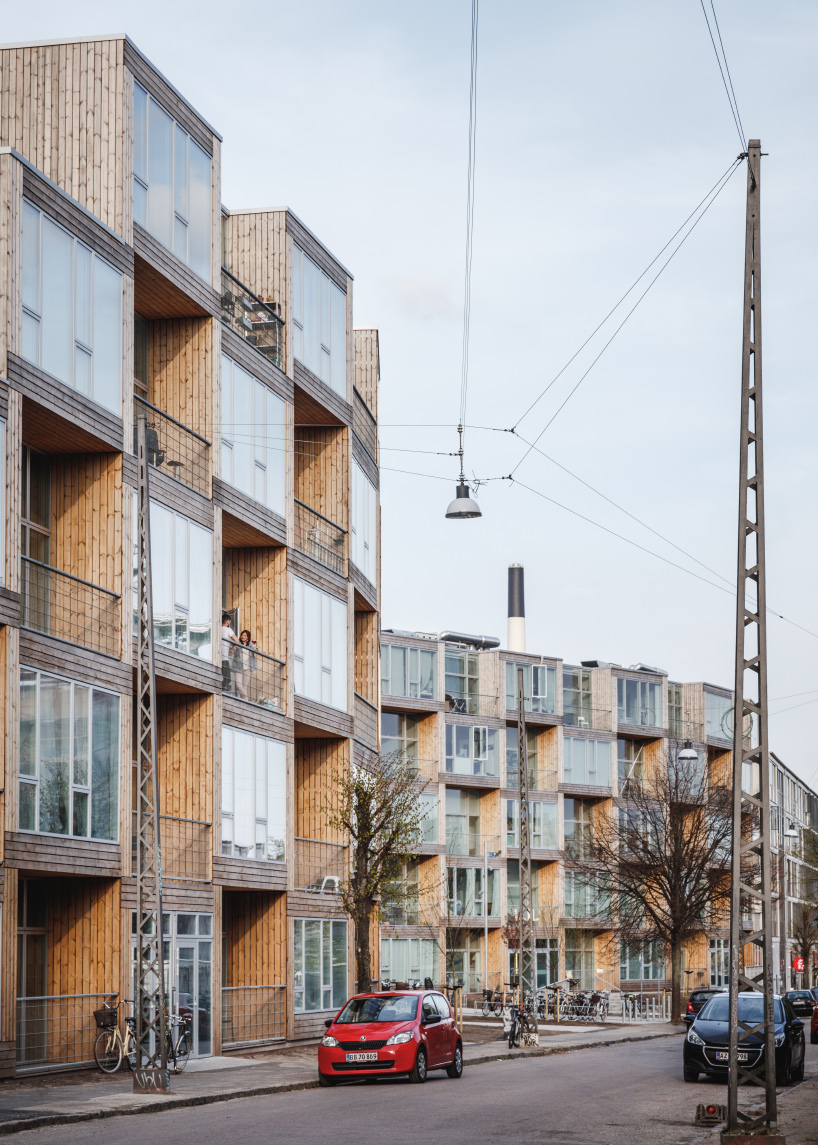 the building opens up to allow both residents and the general public to pass into the courtyard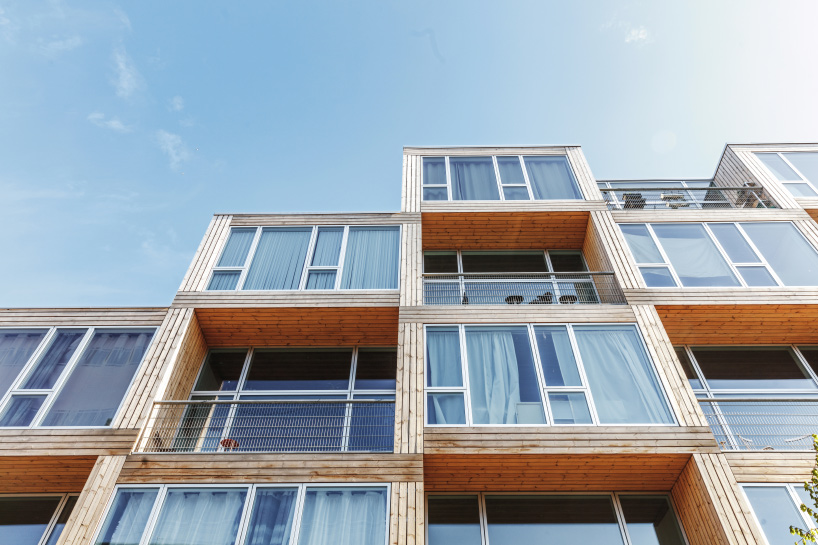 long wooden planks cover the façade on all sides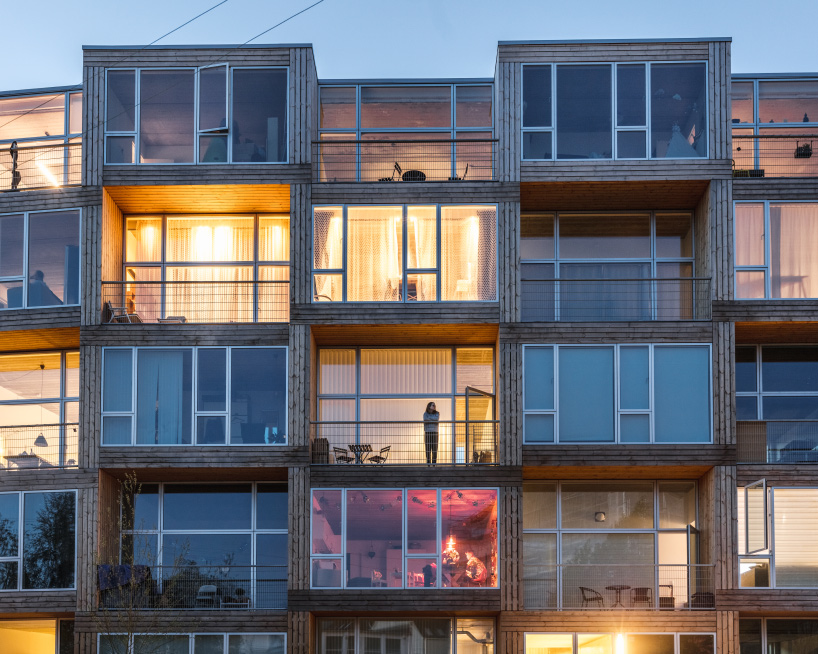 the stacked nature of the design creates space for small outdoor terraces to the south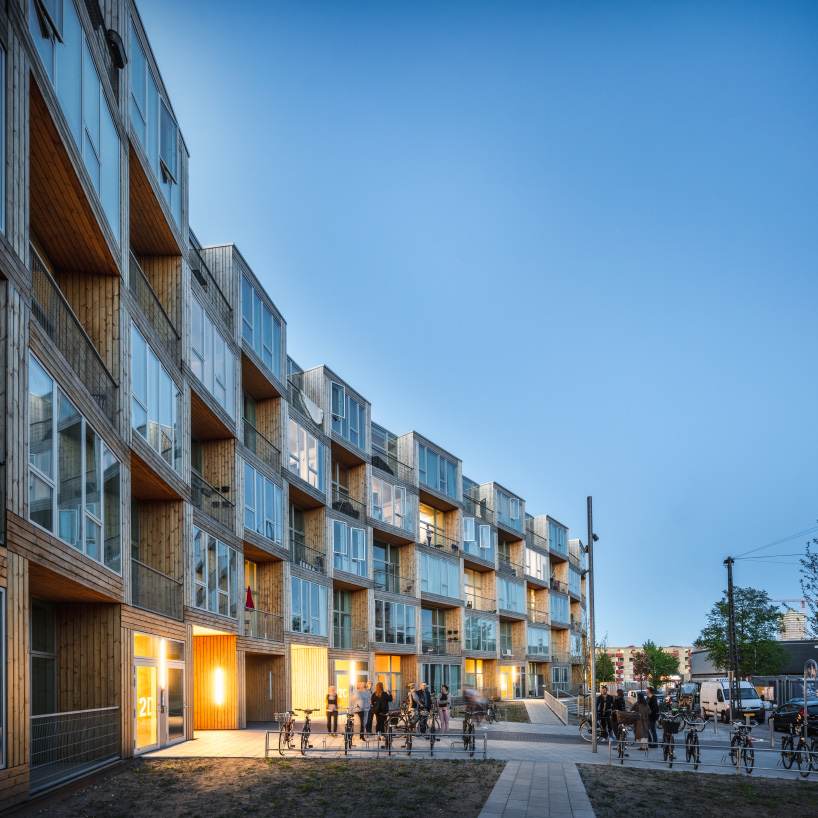 in total, the five-storey structure contains 66 generously proportioned homes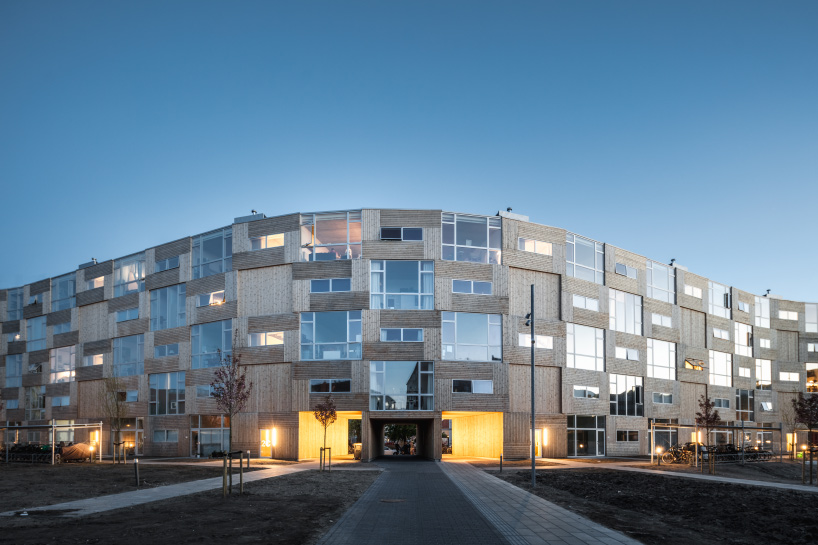 the building presents a checkered pattern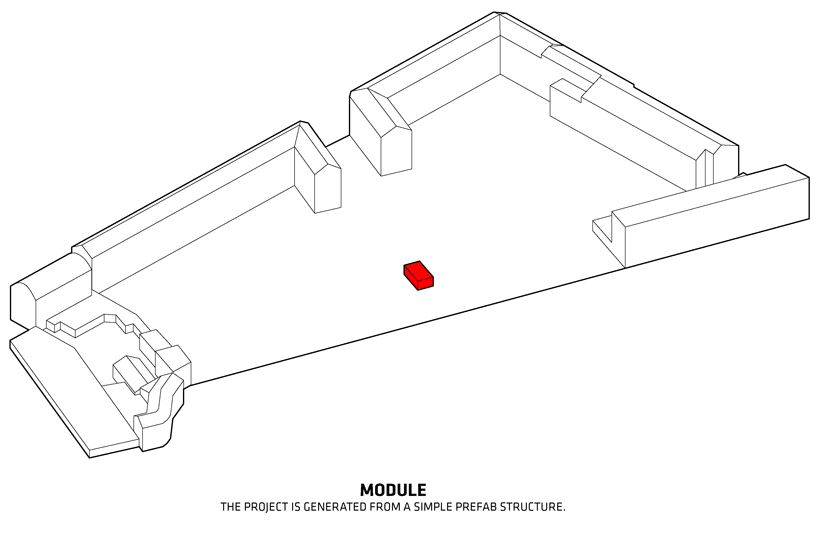 project info:
name: dortheavej residence
date: august 14, 2018
program: housing
status: completed
size: 6,800 sqm / 73,195 sqf
type: commission
client: lejerbo
collaborators: MOE
location: copenhagen, denmark
awards: danish architect associations lille arne award, 2018
project team
partners in charge: bjarke ingels, finn nørkjær
project managers: ole elkjær-larsen, per bo madsen
team: alberte danvig, alejandro mata gonzales, alina tamosiunaite, birgitte villadsen, cat huang, claudio moretti, dag præstegaard, daruisz duong vu hong, david zahle, enea michelesio, esben christoffersen, ewelina moszczynska, frederik lyng, henrik kania, høgni laksáfoss, jakob andreassen, jonas aarsø larsen, karl aarso larsen, katerina joannides, krista meskanen, laura wätte, lucas torres aguero, maciej jakub zawaszki, maria teresa fernandez rojo, michael schønemann jensen, mikkel marcker stubgaard, nigel jooren, rasmus pedersen, robinson neuville, sergiu calacean, taylor mcnally-anderson, terrence chew, tobias hjortdal, tobias vallø sørensen
philip stevens I designboom
oct 08, 2018